This is a very special breed of dog. This is what you call a Golden Wienershit. That's right. Pronounced WEENer-SHIT. Basically all syllables are emphasized.
Yes, this is a breed of dog that can only be created in the backwoods when Uncle JimBob's stud dog, half Dachshund and three quarters something else, and Suzy Mae's shih tzu/golden retriever mix go out behind the barn unattended for a good time. The product? Those ears, the bow legs, the turned out feet, the funny toes.
Unfortunately, this Golden Wienershit found himself, not even old enough to be weaned from his mother, in the local Alabama Wal-Mart parking lot being handed out to whoever wanted a new puppy that day. Thanks to a very compassionate person, he shortly thereafter found himself en route to a rescue in Pennsylvania.
Now Wally, short for Walter James, lives the life of a couch potato barn dog. When he's not saving the horses from Canadian Geese and patrolling the shores of the Brandywine River for canoers, he's asleep on the couch. Being from the south, Wally can be very sensitive to temperature, and the moment it gets below 55 degrees he's shaking and crying. I wanted to get him a blanket that would be tough enough for his excursions through the brush and the mud, but being beautiful and well fitting were also high priorities. Golden Wienershit is an interesting body type.
You don't get more classic or well fitting than a Baker™ blanket. Horse people have trusted 5/A Baker™ Products since, seemingly, the beginning of time to dress their horses. It's kind of a no brainer to trust their durability for your dog as well. Sporting a 1,200 denier shell and 200 grams of fill, Wally is protected from the elements. The closures are a very strong Velcro, making the blanket stay in place as Wally gallops through the countryside. He has used and abused this blanket for two winters in a row, and it still looks like new. It's easily washed in cold water in the washing machine, and line dried.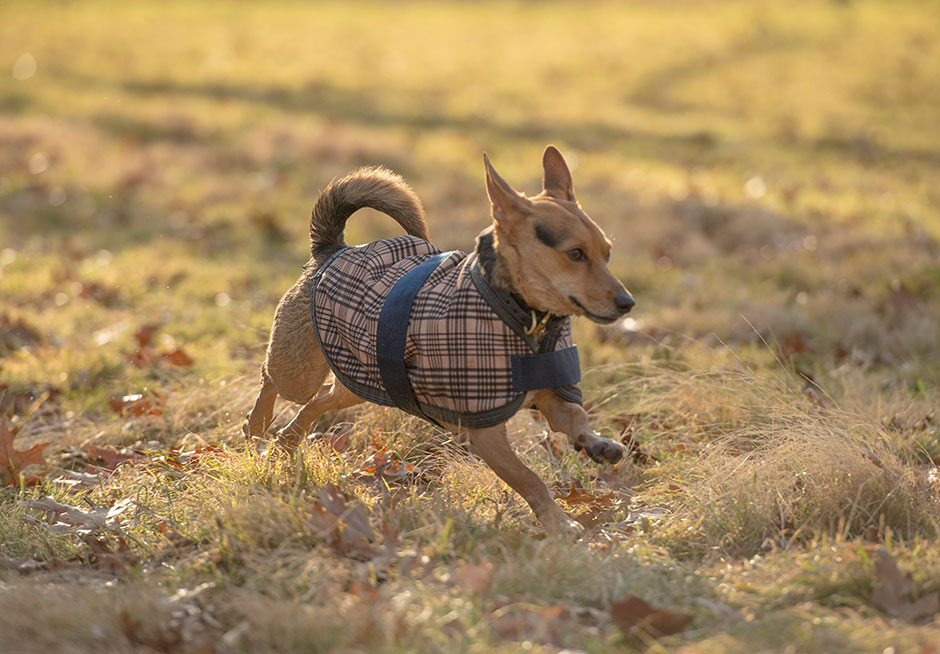 Despite being long, girthy, having big shoulders and short bow legs, the Baker™ Dog Turn Out Blanket fits great. Wally will continue being the best dressed dog at the barn for years to come.