Emily Hackbart of The Paper Woodland creates custom whimsical horse portrait illustrations that look like they walked right off the page of a children's book.
I stumbled across Emily's shop while looking through Instagram for artists to commission custom portraits of Dexter and was immediately struck by the whimsical nature of her illustrations. While I already have a few pieces of Dexter artwork hanging on my walls, I firmly believe that you can never have too much art!
From timely responses to being sure I was kept updated on the process, Emily met and exceeded all of my expectations. She captured every little thing I love about Dexter's face, perfectly. I truly couldn't be more pleased.
Emily even surprised me with a second custom portrait and matching stickers. Seriously, does it get much better?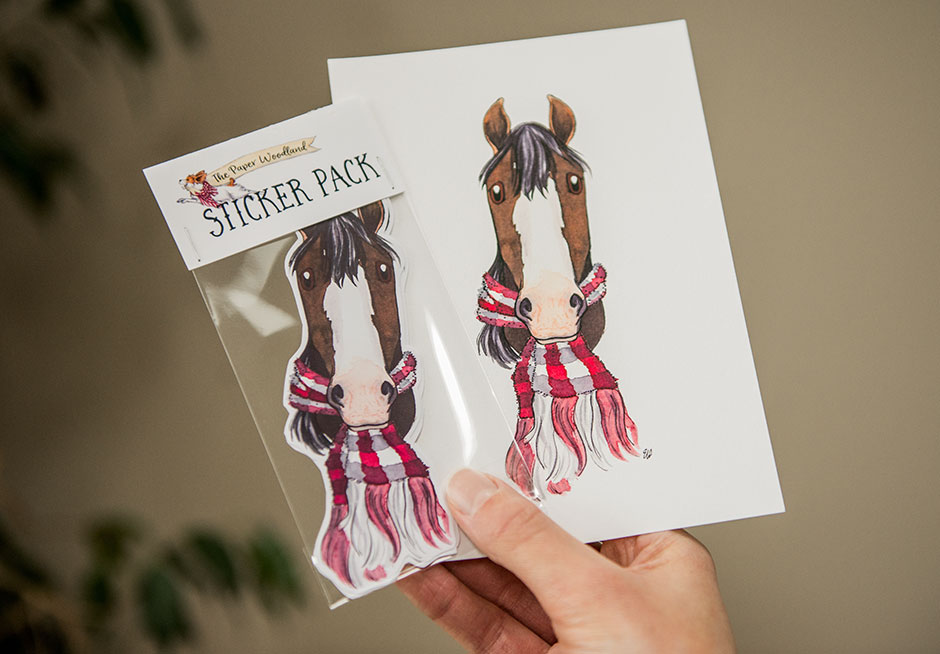 The obvious thought and care that went into this project blew me away. I am absolutely in love with the custom portrait of Dexter I had commissioned from The Paper Woodland and cannot recommend Emily enough.
And what better way to get totally acquainted with someone you admire than to ask them a few quick fire questions. So, that's what I did and here's what Emily had to say in response…
1. Do you make illustrations for a living? If not, how do you support yourself, and how does this relate to your illustration making process?
I am very blessed to be able to make my living with my illustrations. It is wonderful to be able to be home with my family, and still be able to work. I LOVE my job, it's truly a dream come true to spend my days doing what I love most.
2. Can you describe your routine—how often you draw and paint, how many hours per day—how you break up the day?
Being a work-from-home mom of three small boys, my days can be pretty crazy! First thing I like to get done is to package up any orders that I completed and were approved the day before. Once those are in the mail, I try to catch up on emails, then work on my shop, updating listings and adding new ones, etc… The rest of the day is spent sketching, inking, painting, and working on the computer. During the holidays (mainly Christmas and Mothers Day) I work 18+ hour days. This is all subject to the kiddos of course! I have many adorable interruptions during the day, but I try to get as much done as I can. Sometimes I can get a lot done during the day, sometimes I am hardly able to sit at my desk until the evening. I work at night a lot!
3. What most distracts you from getting your work done?
Definitely my kids! They are my adorable distractions. The older two are two and four, and are getting pretty good at playing well together for longer periods. I also have a three month old. He's the sweetest baby alive, and blessed with a very laid-back personality. He has a bassinet right next to my desk, and spends a lot of the day on my lap. He's the sweetest!
4. How long does it usually take for you to do a custom whimsical horse portrait illustraion?
It depends on the horse! It also depends on if I am painting just the face, or the whole body. Full-body portraits take much longer to paint than face portraits. Usually 3-5 hours each. For face portraits, if they have a really unique face shape, or very intricate markings, they can take several hours. But I have really honed my skills over the last 2+ years of illustrating full time, so some might only take me an hour and a half to two hours. The sketching and digital clean-up take the longest amount of time.
5. What tools do you use (please list all)?
For my illustrations I use a GraphGear 1000 mechanical drafting pencil with HB lead, Fluid 100 Hot Press finish 100% Cotton watercolor paper, Micron Pigma markers, a variety of professional watercolor paints, Series 7 Windsor and Newton sable watercolor brushes, a scanner, my computer, and my canon wide-format printer with archival inks.
6. What kind(s) of paper do you use?
I have tried many different brands of professional watercolor paper, but the best I have found for my work is the Fluid 100 Hot Press finish 100% Cotton watercolor paper. I mostly use the 6×8 inch size. It has a beautiful finish that scans really well, and I just love how it works with the paint and water. I use so much of it, I buy it by the case!
7. Which of your projects has been most important to developing your personal style?
All of them! Developing a personal style takes hours and hours of drawing and painting. Before I opened my Etsy shop, I really struggled to find and hone a style for myself. When I started selling portraits, I decided what style I wanted to achieve, and went from there. It is a bit embarrassing to look at the first portraits that I painted, because my skills have gotten so much better since then! Over the past 2 years, and painting thousands of little faces, both human and animal, I have really been able to develop and refine my style. I love it when someone tells me they saw my work, and could tell right away that it was mine, just by the style.
8. How would you describe "the ideal project"? Did you have any recent opportunities to come close to this?
I love doing custom full-body portraits. Those are really fun! This past Christmas someone commissioned me to paint two cats doing doing yoga in front of the Eiffel tower. That illustration was a blast! I also made an illustrated family tree for someone's French Bulldog, which was so much fun to paint. However, my favorite subject to paint would have to be horses. I have been a horse-nerd my whole life (I have always had horses, was in Pony Club, worked as a horse camp counselor for many summers, and was a wrangler on a Dude ranch in Colorado) and horses were the first thing I ever drew. I still LOVE drawing and painting horses! So I would have to say that painting horse portraits all day would be my ideal project.
9. Surely you've had bad experiences with clients. What was the worst thing that you had to deal with, in your career?
I have been very blessed, and have only had two portrait customers that I couldn't make happy. I just couldn't get the sketches (even after MANY tries) to their liking. In both cases, they were looking for a more photo-realistic depiction, not an illustrated one. I was sad that I couldn't fulfill their needs, but wished them well in finding another artist that could.
10. Is there anything else you can tell us about yourself, your career, or the profession that would be interesting or helpful to others aspiring to enter and succeed in illustrating?
My advice to anyone that is looking to make illustrating their career, is to do your homework (learn the platform you will be selling on), and work hard! Talent alone is not enough. You have to put in the hours, and it has to be your passion. Besides my family, my work is by biggest passion. I would rather work than sit and watch a movie (much to my sweet husbands frustration) or do almost anything! I work all day, every day (in between my mom-duties) and love it! I do take Sundays off, no exceptions. But besides that, I am happiest when I am sitting at my desk, drawing or painting. That is my happy place!
—
Thank you so much for chatting with me, Emily!
Follow The Paper Woodland:
Etsy Shop // Facebook // Instagram
From now until March 1, receive 10% off a portrait like Dexter's using the code BLOG10.