"New Year, New You" not your thing? Don't worry, I discovered something even better to get motivated on the path to success! Instead of making a resolution, I opt to follow a word or phrase that inspires me to make personal growth. I was inspired by the AtelierCG Equestrian Gift Set Collection Tobiano for this year's phrase!
"Don't let them tame you" is the bold statement engraved on the Tobiano Horse Shoe Bangle and Signature Ring, which make up the collection, and I think this brand motto is the perfect resolution replacement!
Features
Brave, fearless and simple—these are the first words that come to mind when describing the Tobiano Collection.
I appreciate how well the horse shoe designs play into my 'stable to street' stylings. And since both pieces are the same shape, it creates a very cohesive look.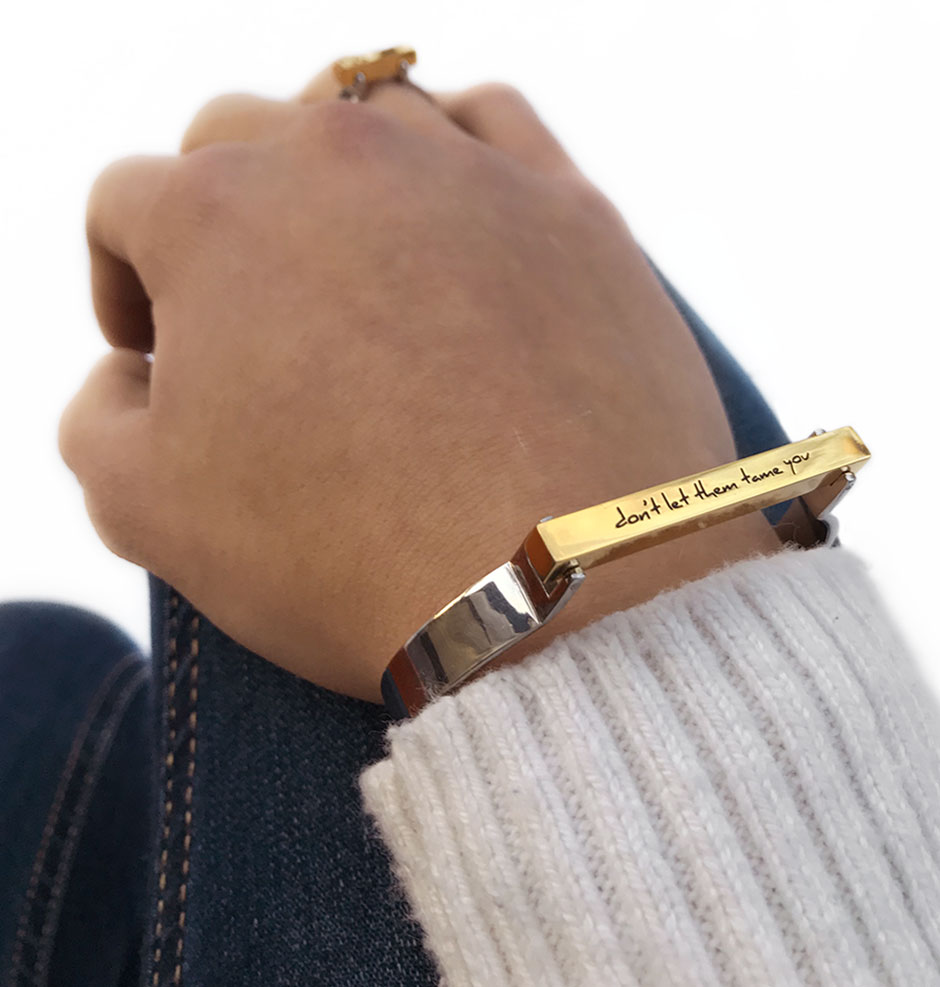 The motto is front and center on the bracelet which makes for a more direct punch. In contrast, the ring features the AtelierCG logo on the front with the motto on the inside for a more intimate (and secretive!) reminder. I love that the tagline on both appears to be handwritten which makes the phrase very personal.
With stainless steel sides, these pieces are sturdy and quick to polish. Equestrian jewelry that withstands a beating is important to me since I have such an active lifestyle. I could easily wear this set to the barn, but I am keeping it for special occasions!
Options
The stainless steel horse shoe design remains consistent across all Tobiano gift sets, but you can select different color variations for the "writing bar": black/silver, gold/silver, or black/gold. I chose the gold/silver because I felt it would be the most versatile, but my second favorite was the black/silver!
Thumbs up 👍
The phrase "don't let them tame you" is now my all-time favorite. I am a sucker for simple, but profound statements and this one does not disappoint! Lofty goals keep me motivated. There is no way that I will be able to accomplish these personal and competitive goals if I listen to the nay-sayers and follow the common road. The phrase on these pieces remind me that I was born to be different; I was not born to be tamed!
Thumbs down 👎
If I were a horse, I would not do well in the showmanship and model classes; I have very little wrists and large hands… neither look nice photographing up close. The bangle is a bit big on my wrist so it slides around easily, but the ring fits me perfectly most days. Options to purchase in small/medium/large could be helpful for mix-matched women like me!
Price
At just under $200, the Equestrian Gift Set Collection Tobiano is more economical than purchasing the Tobiano horse shoe bracelet and signature ring separately. I was ecstatic to receive this set as a gift since I do not spend a lot of money on myself!
Bottom Line
These pictures do not do this Tobiano collection justice as the writing and design are understated. But, when I wear these pieces, a sense of 'Wonder Woman' comes over me!
So, who's with me in making 2018 the year you "don't let them tame you?!" This set is calling your name!
—
Find out more about the AtelierCG Equestrian Gift Set Collection Tobiano in gold/silver here.
You can also check out AtelierCG on Facebook, Instagram and Twitter.
I received this product for free for the purposes of testing it and reviewing it. All opinions expressed are truthful and 100% my own.