What are you up to with your horse this weekend? Here's what we're doing: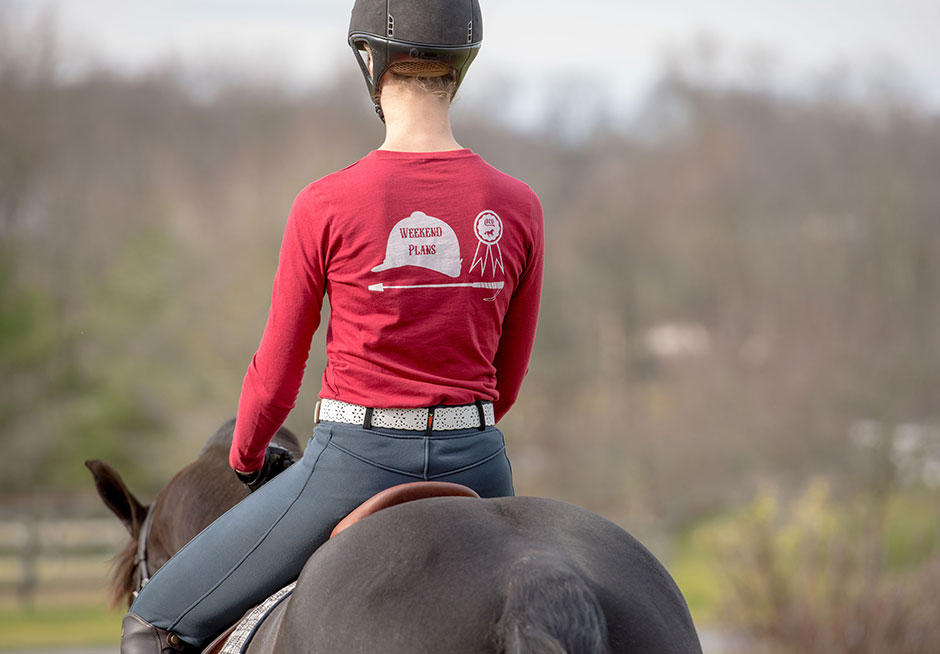 Everybody's (hardly) working for the weekend! Let everyone know what you're really doing, too, with a weekend plans tee from Bending Line Designs. 
Features
This crew neck long-sleeved tee is one of the smoothest and softest tees you'll ever wear. Made of 100% cotton, it has a durable, vintage feel. Bending Line Design's sources its blank apparel from Bellas Canvas, American Apparel and Alternative Apparel, known for their premium quality, as well as ability to stand up to a washing machine.
When shopping online, I often struggle with sizing because I don't know how certain items will fit. Bending Line Designs takes the guesswork out of this process with the use of Virtusize. This comprehensive widget allows you find the perfect fit using three different methods: 1) Compare with a previous purchase from another merchant 2) Measure a favorite item 3) Compare with other garments in stock. I opted for method #2, which resulted in a size small. For the first time ever, I got a clear picture of how my shirt would fit. I now know which size to get rather than just guessing! And let me tell you, the sizing is spot on when the garment arrived in person.
If you've ever wondered what color breeches to pair with red that aren't so black and white, we have a few suggestions:
What to wear with red in the spring and summer? It is best to team red up with tan, denim, lavender or gray breeches in the spring and summer seasons.
What to wear with red in fall and winter?  For fall and winter try wearing this shirt with navy as we've done so here, gray or brown breeches. If you want to wear something a bit more unexpected, try pairing this tee with mint! So chic!
Options
A hunter princess at heart, I couldn't resist this adorable Hunter/Jumper Weekend Plans tee in cardinal. It features a large helmet, crop and horse show ribbon design in white on the back and subtle branding on the front. If Hunterland isn't your thing though, don't worry, Bending Line Designs also carries a weekend tee for Eventing and Dressage enthusiasts.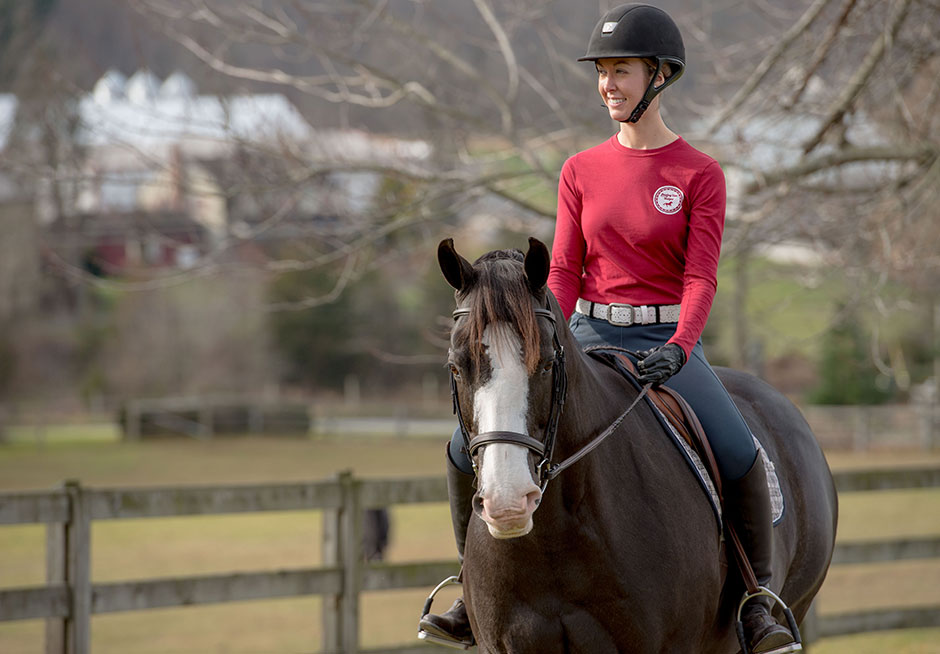 Thumbs Up 👍
Material and fit aside, I appreciate the story behind the brand. Bending Line Designs was started as a way to incorporate owner and founder Kathy Caruthers' two main interests: horses and design. Sound familiar? They develop each design in-house and screen print by hand. And since they're based in Pittsburgh, I can feel good about supporting a local small business.
Thumbs Down 👎
This shirt fits great so I'm worried about shrinkage with it being 100% cotton.
Price
You know you want a tee of your own! Ringing in under $35, there's really no reason not to give the shirt a try. Plus, save 10% off your next order from Bending Lines Designs using our promo code Paperchases10 at checkout.
The cherry on top? Each order typically includes freebies such as stickers, patches and branded boot rags (or spit rags in my case). Sometimes it's the smallest things that make the biggest impact.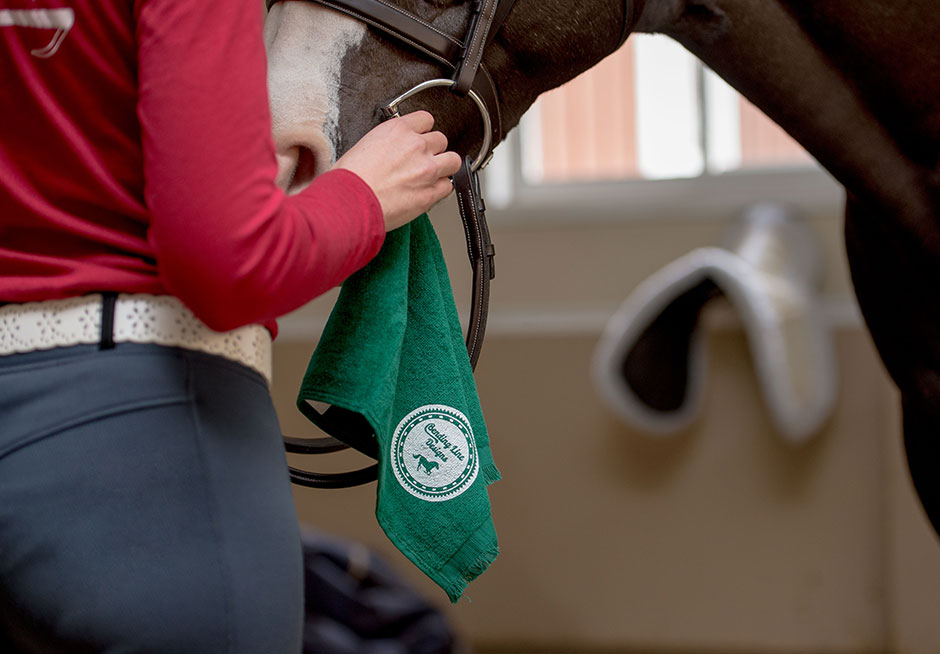 Bottom Line
Whether your weekends are filled with horse shows or you just love the idea, this tee is perfect for you!
Have any plans with your horse this weekend? Let us know!
—
Find out more about Bending Line Designs' Hunter/Jumper Weekend Plans Tee here.
You can also check out Bending Line Designs on Facebook, Instagram and Twitter.
I received this product for free for the purposes of testing it and reviewing it. All opinions expressed are truthful and 100% my own.