No one does equestrian-inspired preppy style quite like Ralph Lauren. Or so we thought. And then along came Hampton Ivy: a Long Island-based accessory brand fueled by a passion for representing traditional equestrian and nautical fashion, while celebrating the preppy lifestyle.
I know what you're thinking, but the preppy lifestyle is more than just boat shoes and bow ties. It allows us to showcase what we care deeply about. Owner and founder of Hampton Ivy, Melanie Sperin, has perfected this mantra by designing pieces that take inspiration from the past to express who we are today.
Each handmade Hampton Ivy accessory boasts bright and bold colors with clean and simple styling. Mix and match to upgrade your style game. You can select from bracelets, necklaces, earrings and more. There's something for everyone!
And did I mention affordability? Yeah, they do that, too. You can achieve that polished preppy look on a budget, as average prices are around $26. Ahhhh, now they're speaking our language!
Melanie was kind enough to do a Q&A with Paperchases & Petticoats, talking about her work, trends in jewelry design, and much more:
Q. Tell us about yourself, including what you do and how you got there.

My name is Melanie, and I am the owner of Hampton Ivy jewelry and accessories! I'm also a full-time student studying Advertising and Marketing Communications at the Fashion Institute of Technology in NYC, and I'll be graduating in May of 2017 (very excited about that!). I started Hampton Ivy in 2014 when I realized there just wasn't enough unique preppy and equestrian jewelry out there. I've been creating fun, new preppy and equestrian pieces ever since!

Q. Tell us about your design style. What makes your collections unique in the equestrian industry?

I love patterns and designs that can be worn year after year, and they can also be worn with casual outfits or dressy ones. I truly believe my equestrian collections are unique because they have enough of a modern spin that makes them fashionable and wearable everyday.

Q. As a designer, where do you draw your inspiration from? Do you ride horses?

I draw a lot of inspiration from vintage styles in both home decor and fashion, my favorite being anything from the 1940s and 1950s. I also draw inspiration from my own experience riding and my mom's. I rode when I was younger and have ridden on and off over the past few years. My family is full of horse lovers and past riders, so the inspiration comes from years of collective experience and exposure.

Q. Who are your favorite equestrian designers?

My top favorite equestrian designer has always been Ralph Lauren. His designs have always remained traditional and classic. Then, of course, Hermes is another favorite, and I also really love Rönner Design. I found them through Instagram when I first started and have been dreaming about all of their items ever since!

Q. What advice would you give to someone interested in getting into the equestrian jewelry design business?

I would say if it's something you love and enjoy, and you feel your designs can offer something new or better for fellow equestrians and horse lovers, go for it! Don't forget to do your research and see what you feel the market needs or is missing that you can offer.

Q. What is your favorite equestrian piece you've ever created – and what made it so special?

I would have to say my favorite equestrian piece I've made so far is my Elegant Style cuff bracelet. The way the tan goatskin leather looks in the 24k gold plated cuff, with the Hampton Ivy horse jump logo, too, is exactly what the name says; elegant. I wear it all year round!
Don't know which piece to start with? Of course you'll want them all, but we selected to review two of the top sellers: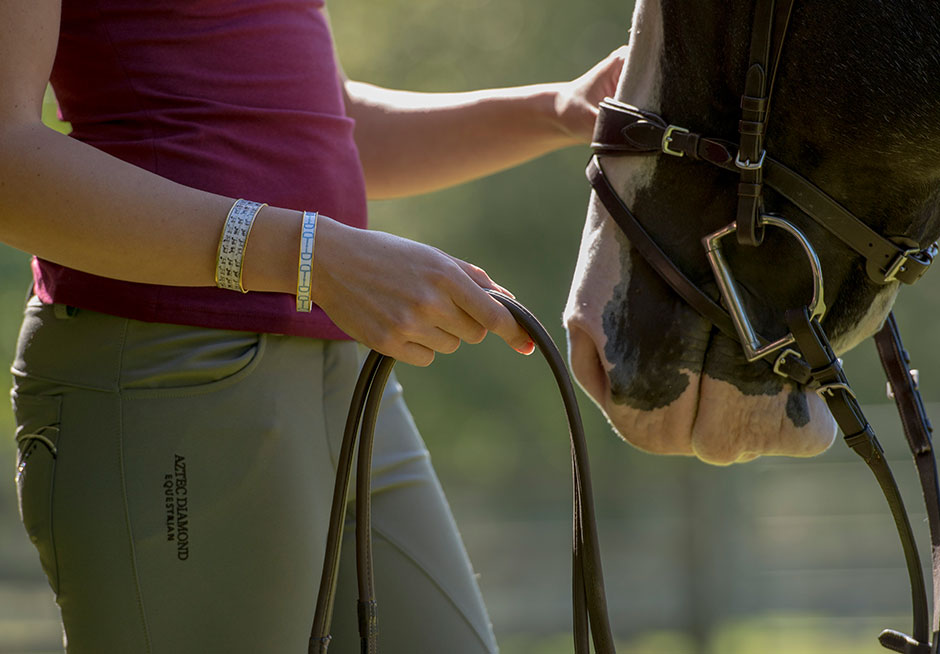 Every girl needs a bangle or two! It's hard to stop at just one. Especially when adorable horse bits are involved.
Features
This 2.5″ diameter x 9.5mm wide bangle can be dressed up or dressed down and is so versatile with the baby blue decoupaged pattern which will easily match any outfit. Hello neutral!
Typically, I'm a white gold kind of gal, but here the 24k gold plated brass base works for an antiqued look in contrast to the modern overlay pattern. A benefit for this bangle being gold-plated is that makes it fairly strong.
Options
With more than 8+ equestrian designs currently available, there's no shortage of desirable options to peruse…and we want them all!
Thumbs Up 👍
This bangle does looks beautiful when stacked in multiples (don't be afraid to mix up designs and colors) or worn on its own.
Thumbs Down 👎
The biggest complaint I have with this bangle is that it's completely circular and therefore, does not conform to the natural shape of my wrist.
Price
At a reasonable price of $24, it will add a delicate touch without breaking your budget.
Bottom Line
I love the horsebit bangle; it's great-looking, light, and a welcome change from my heavier traditional bracelets.
If vintage is more your style, try this horse chart cuff. You'll create a statement that sets it apart from bangles.
Features
This cuff is more fitted to your wrist than the bangle, being only 6″ x 0.75″. I have a small wrist and often open cuffs don't work for me. A cuff that flops around drives me nuts! The fit of this, however, was perfect for my wrist and even has ample clearance if I want to place it over a long sleeved sweater. But it's also comfortable on my bare wrist.
The decoupage of moving horses is both neutral and vintage inspired with its black and white pattern. It reminds me a bit of the horse breeds poster I had hanging in my room as a kid. So many nostalgic feels! It also features the same plated brass base.
Options
From iconic hunt scenes to subtle hints at the equestrian lifestyle, there's a cuff style for every horse enthusiast!
Thumbs Up 👍
I love that I can pair this cuff with any outfit.
Thumbs Down 👎
This cuff may not suit every wrist (fits approx. 5.5″ – 7″ wrist), so make sure you measure before ordering.
Price
Very unique and reasonably priced at $26.
Bottom Line
I've found the Ryan's Hope cuff bracelet to be an excellent fit and I'm so glad I have this as an option to wear.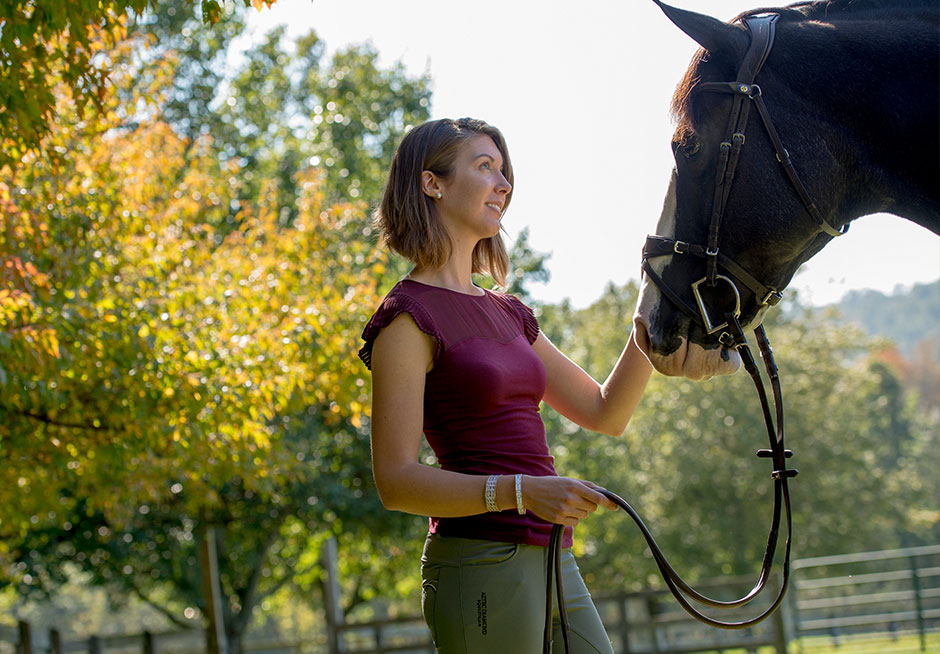 Do you own any Hampton Ivy bracelets? Are they on your wish list?
—
Find out more about Hampton Ivy Equestrian Bracelets here.
You can also check out Hampton Ivy on Facebook and Instagram.
I received this product for free for the purposes of testing it and reviewing it. All opinions expressed are truthful and 100% my own.