Grab a cheeky Phyllis Stein sweater, sip some Kauffman's apple cider and get the heck out of your house. It's leaf peeping season, people! For avid hikers like myself, that means considering the right base layers to stay warm and dry—the difference between an amazing trip and a miserable misadventure. My wardrobe of choice for the task? Kastel Denmark.
When not in the saddle, I like to develop my muscle strength and improve my balance by hiking. Luckily I'm fortunate to live in an area with many great trails and mountains within a day's drive. With promises of speculator views, I decided to put my merino wool crew neck and athletic pants from Kastel Denmark to the ultimate test at Hawk Mountain.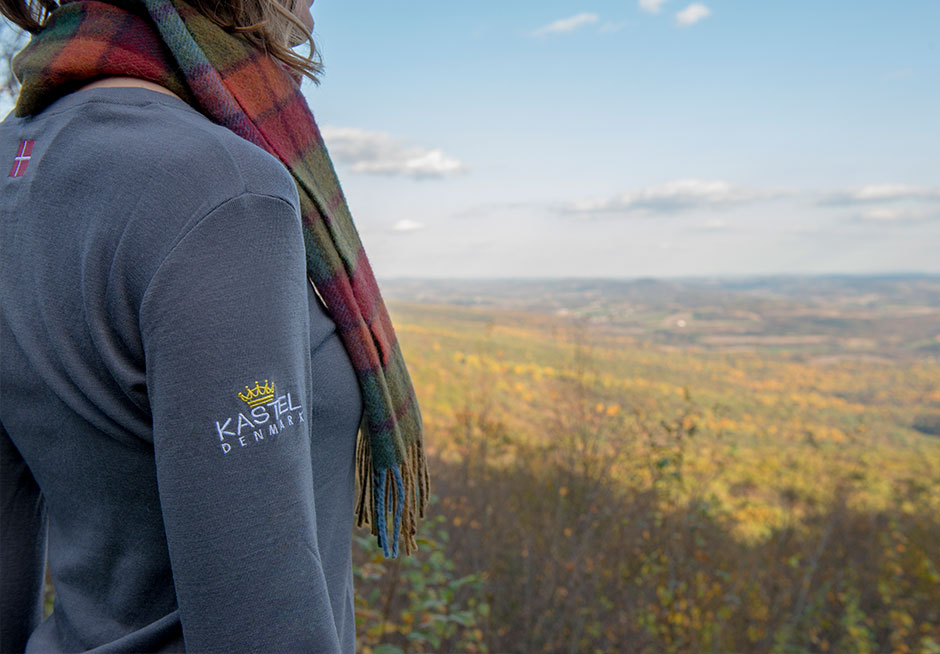 Features
For those of you who don't already know the benefits of wearing merino wool while hiking, it's the perfect all-season fabric: holds onto your body heat when the air is cold, but breathable enough for warm weather, too.
After hours of walking, bouldering and yes, sitting in the car, I can honestly say that I never got too hot or too cold—my body temperature seemed to regulate itself quite well. This magical material quickly wicks away moisture from your body and allows it to evaporate. The best benefit I personally saw from this? I didn't smell. This is especially important for ladies constantly on the run—we don't always have time for multiple showers a day!
The cut is modern, with a relaxed fit that suits the style and intent of the shirt. The sleeves are on the longer side, which I prefer. Actually, this is my favorite design feature: cuffs long enough to accommodate my stretch Armstrong limbs. Oh, and there are thumb holes! I like that I can keep my wrists covered while still remaining active; it's like built-in mittens!
While not as soft as cotton, this shirt isn't too far off. I was skeptical at first because I've found other wool shirts to be too itchy, but Kastel Denmark threw that feel out the window. The fibers used in this shirt are superfine, which contribute to it being extremely comfortable and chafe-free.
Options
The grey shirt is one of over 5 crew neck colors you can find as Kastel Denmark. I'm hoping they roll out with added jewel tones and textures in time.
Thumbs Up 👍
This is a very versatile top! I have used mine layered on cold-weather hikes, and not layered as a casual top around town. Performance gear at its best!
Thumbs Down 👎
You might want to wear it all the time so that it wears out sooner!
Price
At $99, this merino wool crew neck is not cheap, but it is durable, soft enough to wear next to my sensitive skin, and well worth the money.
Bottom Line
Overall I was impressed with this crew neck for the purpose of active or casual use. I would not hesitate to recommend this product to those who have been dissatisfied with other wool shirts in the past, or who are interested in taking the initial leap from cotton. The hefty price tag will seem easier to swallow when you consider replacing your cotton shirts for one that will surely outlast and outperform any of those.
Features
These pants are really fantastic and flattering. The length was great. I'm 5'10" and the size small fits perfectly at my ankles. I also liked the weight of these pants — light and breathable (88% Nylon and 12% spandex) but still providing enough coverage with quality smooth material. It's important to me to look and feel good while working out.
And can we just take a minute to oogle over the mesh side panels? Sexy with a purpose. Not only do I feel beautiful and confident wearing them, but I also found the mesh to be cooling when I needed it. I did get a bit chilled as the daylight passed, but I would have expected this from any cooling pant. With 30SPF UV protective fabric built in, I didn't have to worry about the sun.
There's even a small, discrete pocket on back of the waistband that would easily fit a key or cards. Kastel Denmark thought of every small detail when designing this athletic pant!
Options
The pants come in three colors: black with black trim, black with white trim, and grey with charcoal trim.
Thumbs Up 👍
These athletic pants come to the rescue when it's a bit too hot for shorts but I want something a bit airier than full length pants.
Thumbs Down 👎
My only complaint is that I wish these pants were a bit heavier so that they could also be worn as riding pants.
Price
The Charlotte Athletic Pants normally retail for $75, but are currently on sale for only $25! These are definitely worth the price tag, as they will be in heavy rotation for my workout sessions.
Bottom Line
Consider wearing Kastel Denmark athletic pants on your next outing and tackle those trails without leaving your femininity behind. Because feeling confident and comfortable in the right clothes for the job is what really makes you beautiful.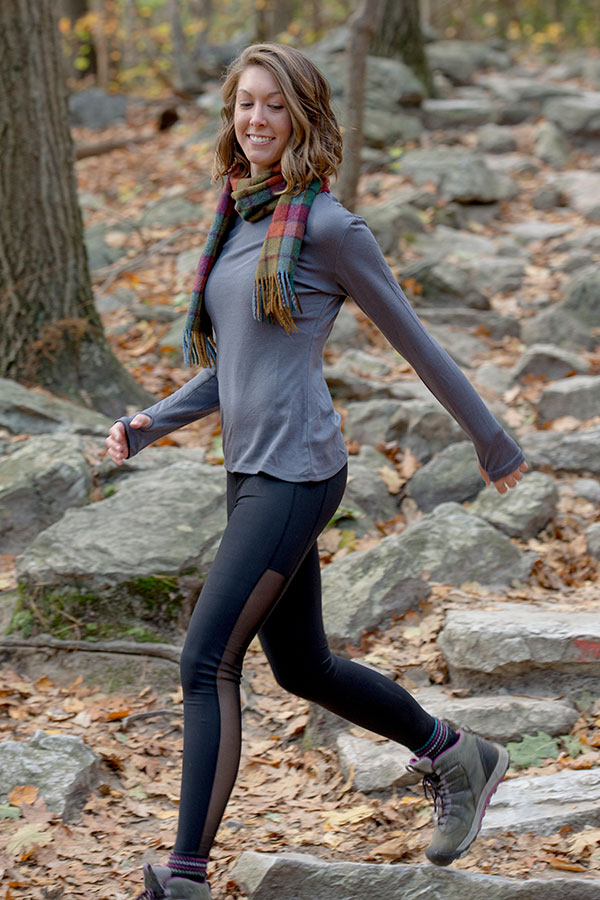 What are you doing when not in the saddle to keep active and are you happy with your base layer clothing performance?
—
Find out more about Kastel Denmark's base layers here.
You can also check out Kastel Denmark on Facebook, Instagram and Twitter.
I received this product for free for the purposes of testing it and reviewing it. All opinions expressed are truthful and 100% my own.