While you may remember to apply sunscreen before you head to the barn in the summer, your skin should be protected any time you're in the sun — even during winter. Clothing is considered the best method of UV  protection. Think sun-safe clothing only comes in floral and tropical prints though? Think again. Kastel Denmark is a brand focused on modern classics that are sophisticated and fashionable, taking you from stable to street, while also blocking out those damaging rays of the sun.
What better location to test out their UV protective apparel than the Nation's horse and hunt capital, Middleburg, VA? I recently had the opportunity to do just that.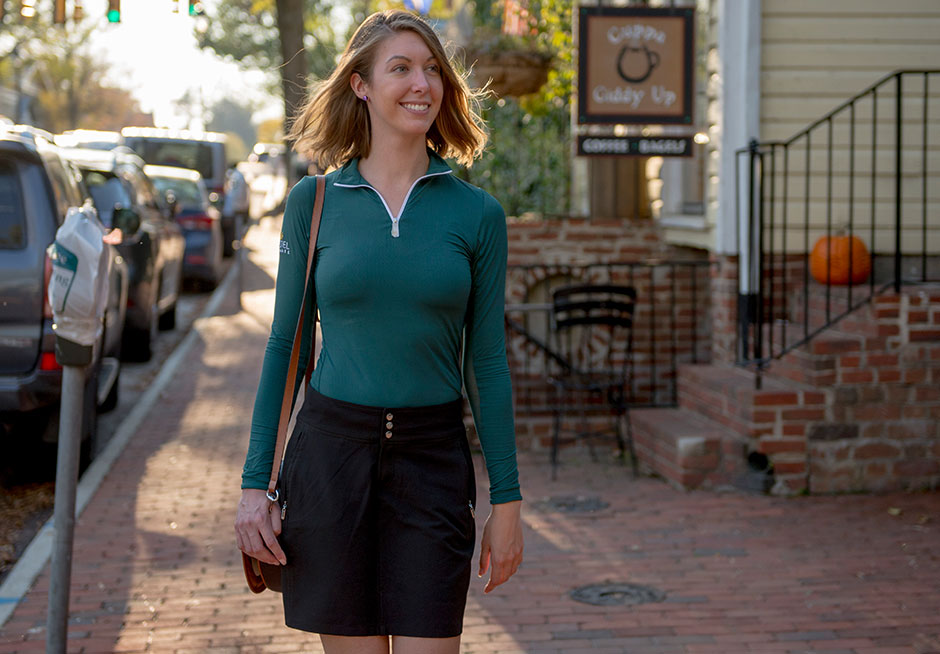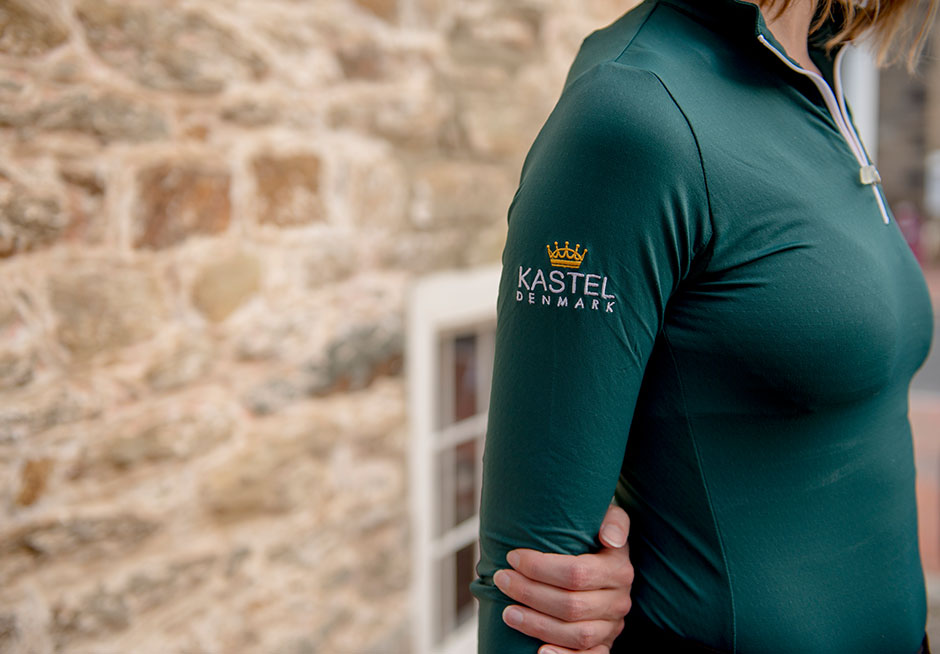 Features
The lightweight fabric offers UPF 30 ultra-violet protection to keep you safe from harmful rays. You should still wear sunscreen for additional protection, but for those like me who often forget, this shirt has me covered.
Its sun-protective qualities can't be doubted. While walking around Middleburg on a sunny 80-degree day, I felt cool as a cucumber wearing this shirt. The wicking fabric kept my core dry (it works FAST) while the color-matching under arm mesh panels provided additional ventilation. I never had the urge to roll up my sleeves as I would have with most other long-sleeve options.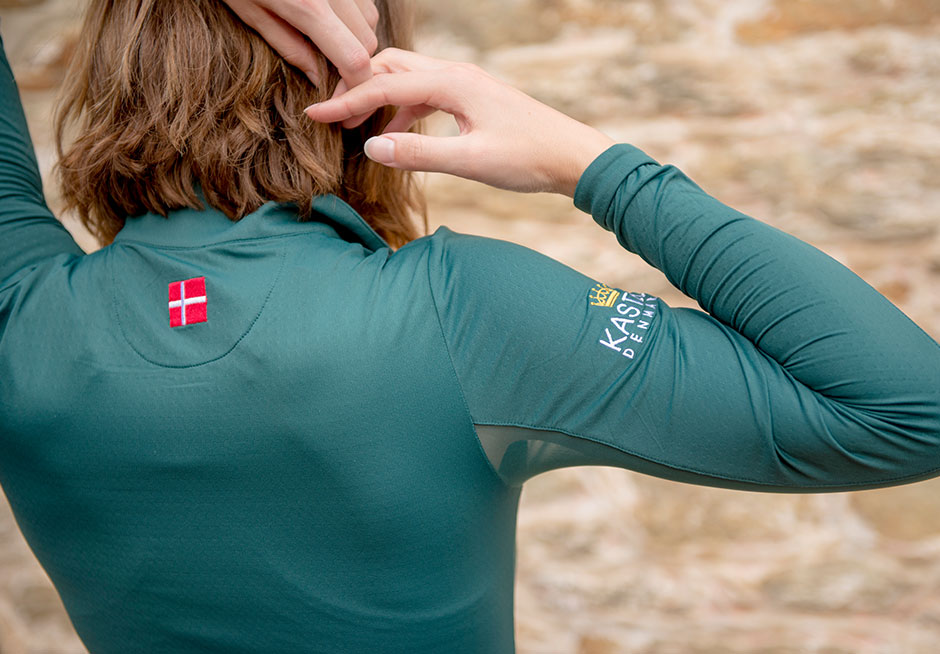 The quarter zip mock neck design combines all-weather performance with traditional styling. I found the material as smooth as a baby's…cheek. The stretchiness of the fabric is something worth noting, too, which is an 88% nylon / 12% spandex blend. This created a comfortable fit without feeling too tight.
I'm especially impressed with the fit, which runs true to size based on their chart. I wear a small well, don't you think? The tailored cut creates a refined image and is long enough to tuck into breeches or leave untucked for a more casual schooling look.
Options
Perhaps the most exciting option is the color choices. From subdued baby hues to rich jewel tones and even color blocking, Kastel Denmark offers a variety of styles to suit your individual tastes. I am completely in awe with my emerald shirt. The white piping around the collar and zipper offer the perfect amount of contrast, and I cannot express enough how much I like the matching emerald mesh panels.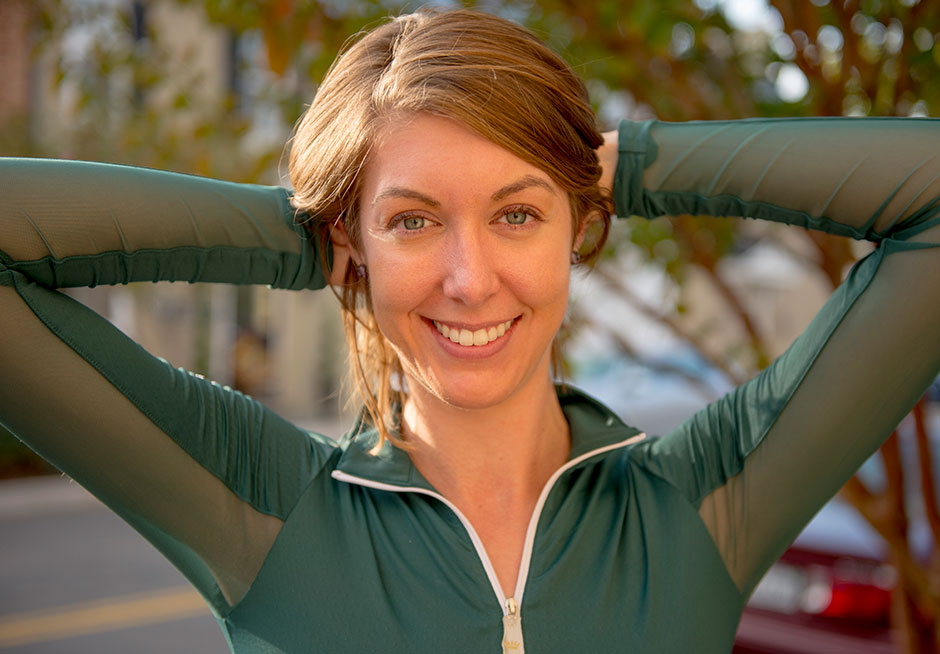 Thumbs Up 👍
This shirt comes in a variety of colors, some even have a rhinestone design on the back, so you can be as flashy as you like.
Thumbs Down 👎
UPF 30 provides very good protection, but 50+ would be better.
Price
Priced at $75, it's not cheap but not outrageous either. Honestly, it seems in line with other sunshirt prices.
Out of the saddle and away from the barn, consider pairing your UV shirt with a wardrobe classic like skinny jeans or even a Charlotte Skort.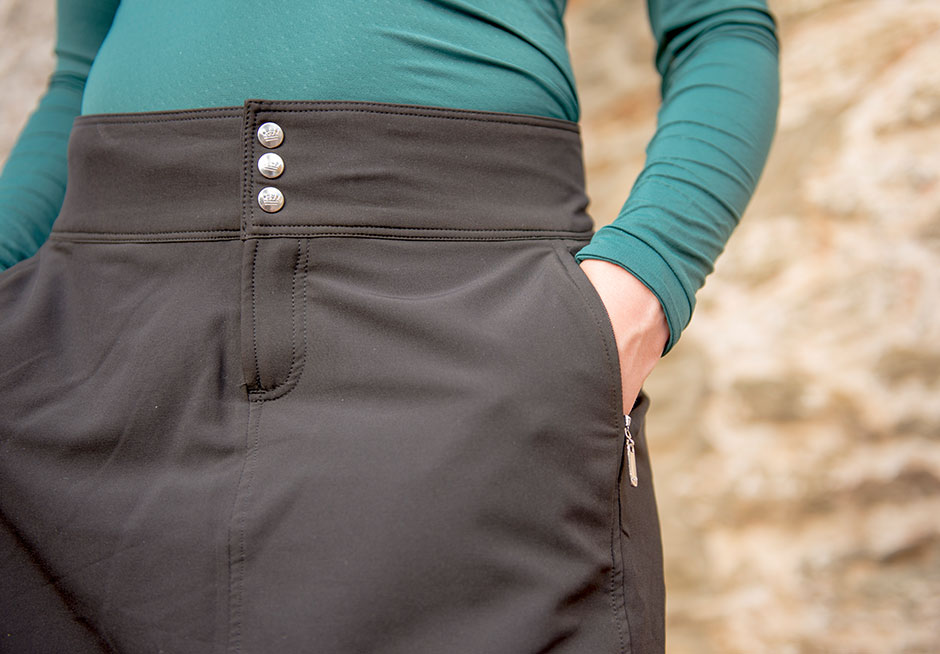 Features
This full skirt overlay camouflages a pair of comfy, soft shorts underneath. Love the simplicity of this skort and how you can wear it with anything:
Pair with a crisp white polo for classic style that can easily be worn later with a fitted blazer.
Create a look that's effortlessly cool by wearing with a sporty tee or fitted sweater and boat shoes. It also coordinates quite well with Dubarry Longford boots.
The wide waistband features a front zipper with two-button closure. Very flattering with a top tucked in. They sit perfectly on the hips without slipping down or digging in. With two side pockets on the outside and two back pockets, it has enough convenient storage for your phone or keys with a touch of style.
I'm actually surprised I haven't seen more of this skirt in the equestrian scene. I feel like it would make the perfect staple for those showing at WEF in between classes. Hop off your horse, throw on a skort and jump in the golf cart. Doesn't that sound like a trend waiting to happen?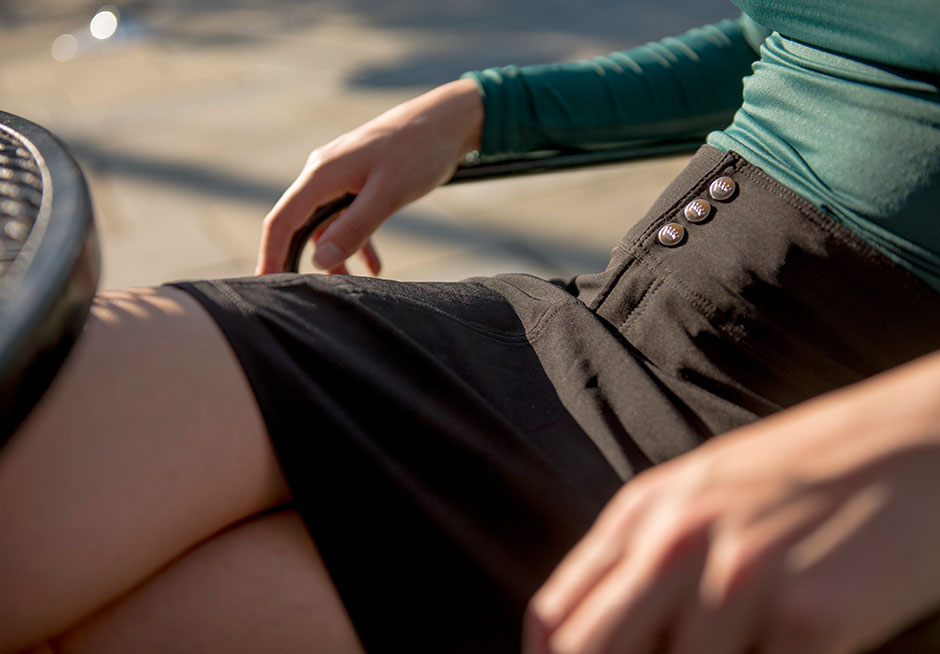 Options
This skort is available in black and navy.
Thumbs Up 👍
I've always wanted a super versatile skirt, something that could keep up with all of my adventures — from to hiking to biking — but also look sharp at the office. This skort helps me maintain a sleek, sophisticated silhouette while remaining modest.It's the kind of skirt that would be easy to dress up or down: the best of both worlds for the active girly girl!
Thumbs Down 👎
I want more…I wish it came in more colors and patterns.
Price
The regular retail price is $75
---
Bottom Line
Whatever your equestrian sport is, Kastel Denmark has you covered (literally). Their pieces are also ideal for those who spend time outdoors involved in other activities since the fabrics wick away sweat and feature antimicrobial, anti-odor technology.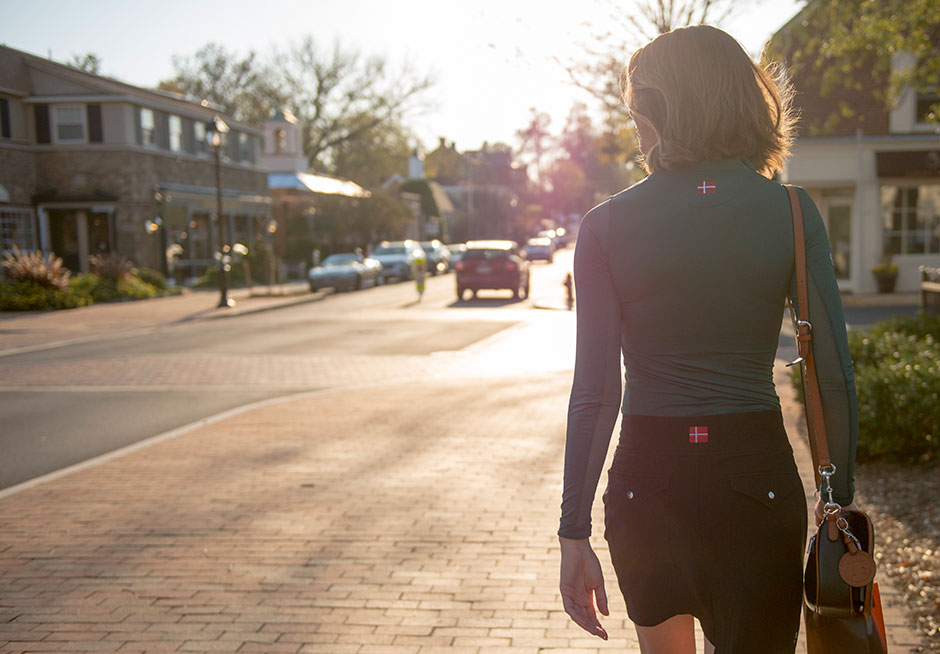 Have you tried these pieces from Kastel Denmark's sun-safe UV protection clothing line, or do you have a personal favorite I should check out?
—
Find out more about Kastel Denmark's UV Protection line here.
You can also check out Kastel Denmark on Facebook, Instagram and Twitter.
I received this product for free for the purposes of testing it and reviewing it. All opinions expressed are truthful and 100% my own.