With a background in the fashion industry, it's no wonder that Cindy G.'s passion for design and horses has translated to her luxury equestrian accessories brand, AtelierCG. A combination of the studio and Cindy's initials, AtelierCG resulted from the courage to push through a major riding accident. The tagline, "don't let them tame you," further embraces this notion of overcoming fears to follow your heart. I couldn't endorse this concept more!
From bags to jewelry, all items are designed by Cindy G. and carefully handcrafted in a family-owned factory in Los Angeles. Cindy draws inspiration from her casual California lifestyle with horses. This is why I was thrilled with the opportunity to review the Appalossa Bracelet.
Features
This signature piece from the Solea collection was modeled after English tack, featuring a curb chain handbraided with Dakota leather and a mixed metal D-ring horse bit closure. The high caliber of craftsmanship is evident through the clean lines and simple silhouettes in which the materials take center stage. And the leather color: I think the red dun leather adds so much richness to the bracelet (available in crème and black, too).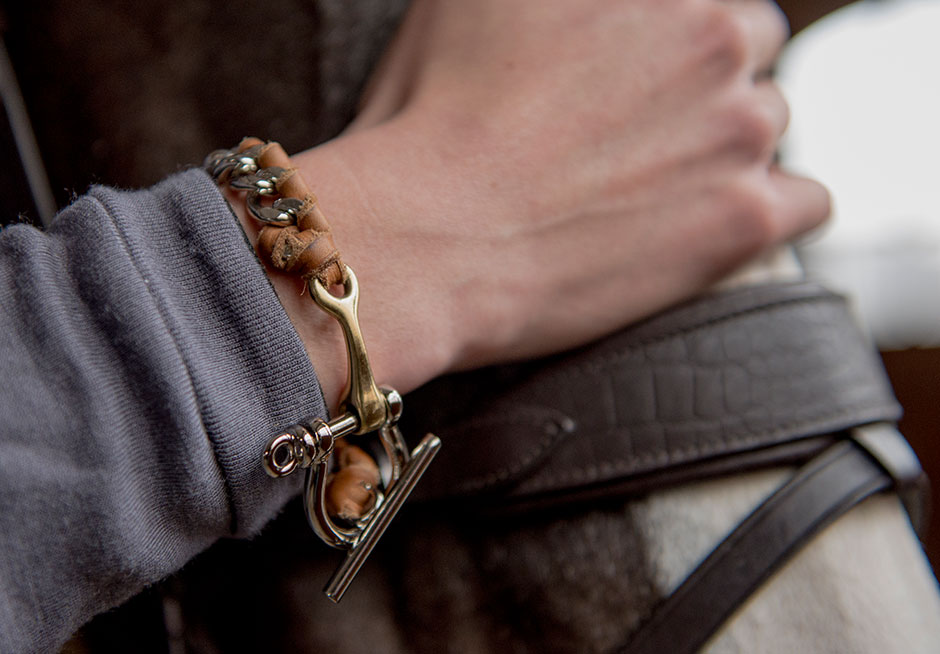 My preference in equestrian accessories revolves around practicality. They need to give me the flexibility of transitioning from office to barn so I can look fabulous and stay active all at the same time. The Appaloosa Bracelet does just that! It gives me an edgy look for the office and doesn't interfere with my riding since the curb chain lies comfortably flat against my wrist. I've also found the stainless steel and leather construction hearty enough to withstand stable chores. So there you have it, both fashionable AND practical!
Options
Perhaps my favorite feature of the Appaloosa Bracelet is that you can style it two ways. I can double my look by focusing on the D-ring bit closure for a more casual wardrobe with jeans and a t-shirt or show off the sleek curb chain for a dressier ensemble. It's a versatile piece that goes with nearly everything in my closet.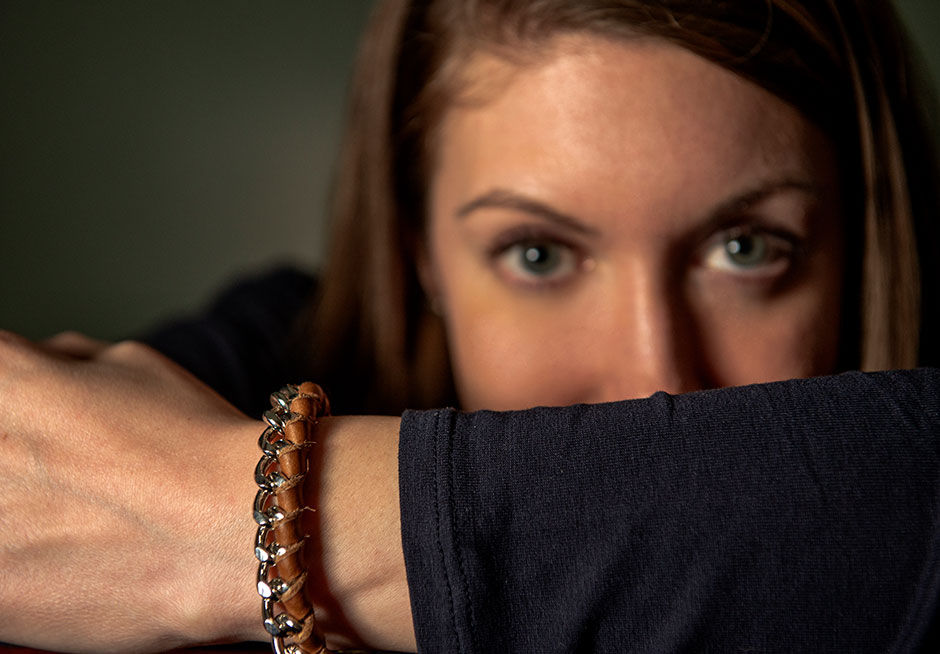 Thumbs Up 👍
AtelierCG practices upcycling with the design of this bracelet, using recycled leather scraps from the brand's handbags. I appreciate that nothing goes to waste!
Each piece is thoughtfully crafted with the intent of empowering, inspiring and lifting hearts. Can you feel the positive vibes?!
Thumbs Down 👎
Due to the nature of the larger closure, I've found it difficult to pile on other bracelets for a layered look.
Price
As pricey as this bracelet might seem at $196, I think it's worth the investment. But really, can you put a price on sentimentality? Whatever way the bracelet finds its way onto your wrist, I can guarantee you'll look down and smile as you recall your favorite riding memory.
Bottom Line
Every woman should own this classic piece. The simple design of the curb chain bracelet makes it a jewelry staple and I love that AtelierCG's Appaloosa version has a bit closure to further allude to its equestrian origins. It is almost always a conversation piece!
I have my eye on this matching necklace to complete my set. Isn't it dreamy?
How would you wear your Appaloosa Bracelet?
—
Find out more about the AtelierCG Appaloosa Bracelet here.
You can also check out AtelierCG on Facebook, Instagram and Twitter.
I received this product for free for the purposes of testing it and reviewing it. All opinions expressed are truthful and 100% my own.