Boy oh boy, am I excited about this boyfriend style Bay Bae tee from Bending Lines! I accidentally stumbled across this brand on Instagram and am so glad I did. Now I can rep my man (Dexter) everywhere I go.
I'm very particular about tee shirts. I hate it when they are see through or have unnecessary embellishments, and the texture has to be just right. You would think finding a basic tee like this would be easy… This shirt finally checks all of those boxes!
Features
I like the relaxed and laidback fit–it just makes me feel good. Not to mention, the neckline is perfect for work or casual weekends out. This tee is both comfortable and flattering!
The fabric is so soft and yet not too thin. It's rare to find a shirt whose fabric feels substantial enough not to be seen through or to cling to the occasional "roll". Bending Lines didn't skimp on the details either. This tee even boasts a cute custom satin polyester tag
Plus, it washes up nicely with no shrinking. The instructions on the removable price tag said to "cold wash, hang to dry, or tumble dry low." Since I already do this for my other favorite screen-printed tees (tip: I also turn them inside out), there's no extra burden on laundry day.
This wear-it-with-anything tee is easy to dress up or down. Whether I pair it with leggings for running errands or jeans for dinner, the possibilities are endless! It's the new "little black dress" of my closet! I plan to wear this wardrobe staple with every outfit this fall.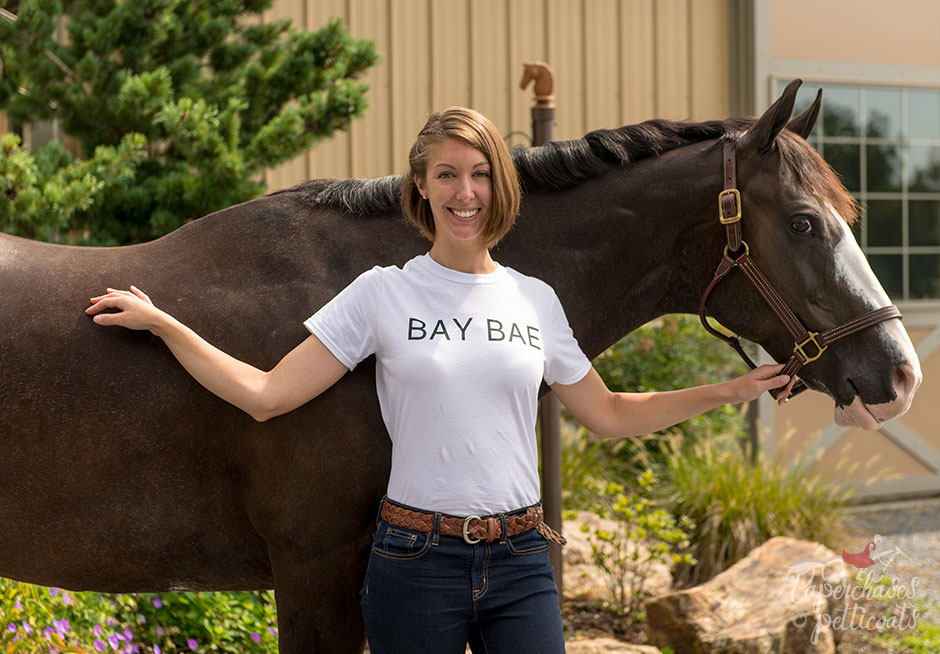 Options
Quirky tees with slogans are the name of the game for Bending Lines! With all sorts of different tee styles, plus a few other clean but powerful designs, this brand is chock-full of style ideas for young equestrianistas.
Thumbs Up 👍
Since the fabric is heavier than a basic tee, I don't have to worry about my bra peeking through.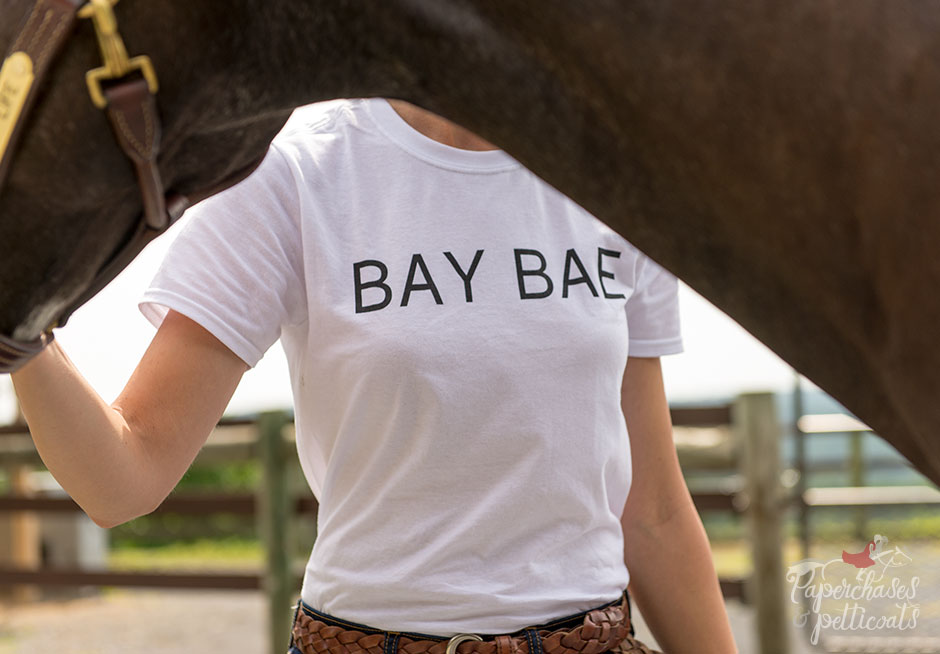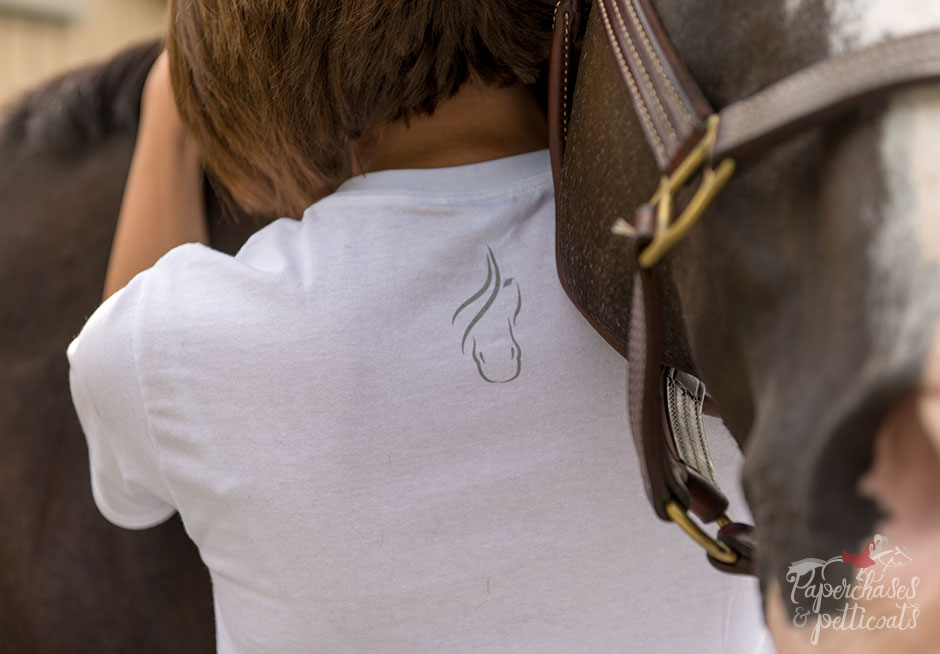 Thumbs Down 👎
I'm not typically a white tshirt kinda gal, so I wish there were more colors!
Price
Even with free shipping, $39.95 for the Bay Bae tee is a bit more than I would usually spend. However, I can certainly tell a difference between this and other tees I own that are less expensive. Get 15% off your next order from Bending Lines using our promo code paperchases at checkout.
Bottom Line
I love the easy wear and versatility of the Bay Bae tee. Layering clothes is one of my favorites things and this tee is the perfect foundation for my summer to fall look.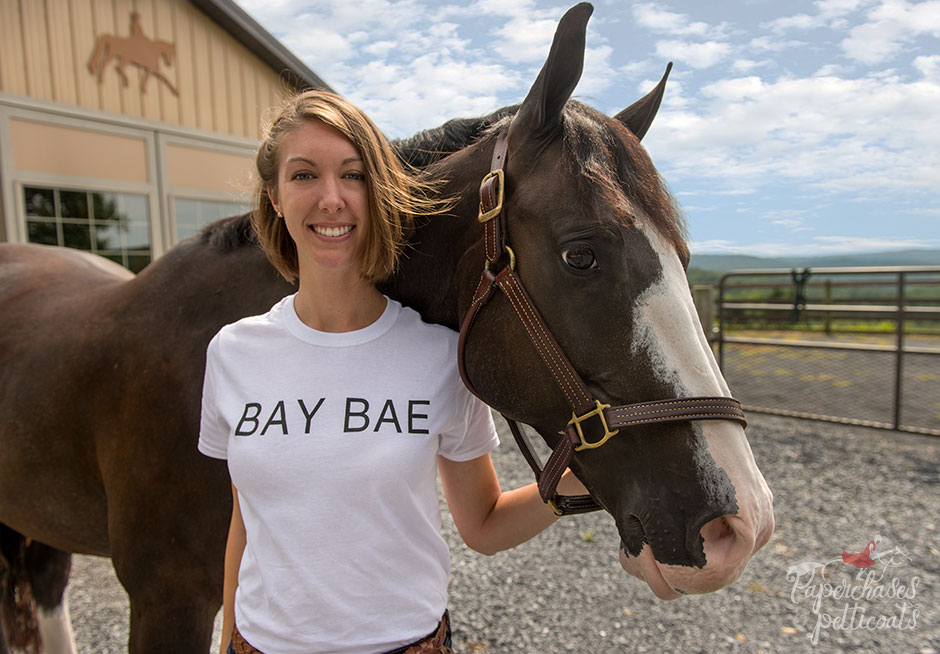 —
Find out more about Bending Lines' Bay Bae Tee here.
You can also check out Bending Lines on Facebook, Twitter and Instagram.
I received this product for free for the purposes of testing it and reviewing it. All opinions expressed are truthful and 100% my own.