First impressions are everything when it comes to showing in the hunter ring. But selecting the right outfit in a sport where tradition trumps trend setting can feel rather limiting. So what's your inner fashionista to do when faced with such stylish options from brands like Cavalliera?
Say yes anyway, of course!
Hunter competitors shouldn't be resigned to blending into a sea of boredom. As long as your clothing fits well and is fairly standard, you should be able to wear what YOU like. After all, a hunter round happens so quickly that the color or pattern of a shirt should not take away from what the horse is doing.
I think it's time for Hunter riders to be trend setters, not trend followers. For me that was making the leap with 3 show shirts from Cavalliera. It was difficult to stop at just three: every single piece is beautiful, wonderful, magical, but also something I could see myself wearing.
Features
My Cavalliera shirts fit so well and streamline my silhouette so much, they feel like they've been designed and sewn just for my body. The length is sufficient enough to be tucked into my breeches and stay put as I ride which is exactly what I was looking for.
Each shirt features an integrated stand up collar, but from a distance no one can really tell anyway. The collars fit comfortably without being too loose. Well-placed rear zippers also provide a smooth appearance.
These shirts run a bit small due to their high elastane content. I did order a size up from what I would order normally (I'm usually a small, but ordered a medium for all based on the size chart) Each shirt fits perfectly–flush to the torso, but loose enough not to restrict movement. The fabric stretches as I do, and helps to keep me comfortable in all my activities.
I care about having show shirts that are easy to maintain, so I appreciate that my picks from Cavalliera can be machine washed and line dried. I just pop them in the washing machine after the weekend. No more dry cleaner bills!
Options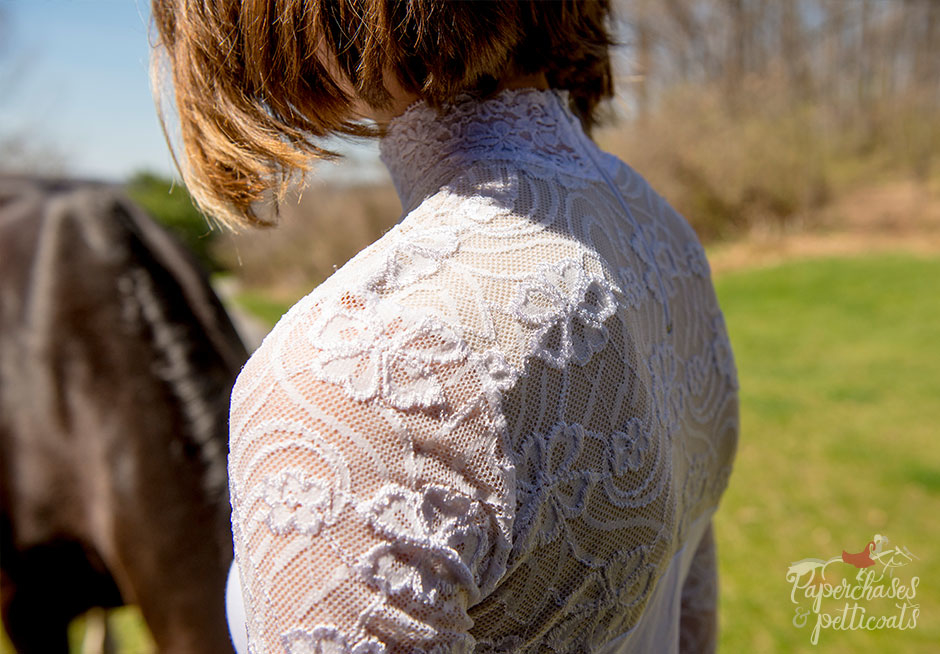 The shirt that made me fall in love with Cavalliera was the Luxurious Lace Long Sleeve Show Shirt. It's absolutely one of the prettiest show shirts I have in my closet. I really enjoy tops that scream femininity, and this one didn't disappoint. It can be worn to horse shows, business meetings or even weddings. This lace shirt will always be in fashion, never outdated.
The material is very soft, not scratchy.  Sometimes shirts made from lace do not give in the arms or shoulders, but I can move in any direction without bunching. Plus, it's very difficult to find a lace blouse that won't show your bra straps—all good, here!
Limited Edition Long Sleeve Show Shirt // $54


I always love classic looks. But owning classic pieces doesn't necessarily mean that I have to look classic. The Cavalliera Limited Edition Show Shirt epitomizes what I envision to be the perfect blend of urban chic glamour. Its beautifully balanced design features structure, stretch, and flattering lines in all the right places. The cuffs are also a correct length for me.
I feel like I'm channeling Audrey Hepburn every time I wear this shirt!
Flo Short Sleeve Show Shirt // $48


What a refreshing, modern take on a classic polo shirt! I appreciate that the body of the shirt is white, while the sleeves are color-blocked–looks lovely by itself or under a jacket. Two crystalized buttons and a sparkling Cavalliera logo on the left chest (not visible while wearing my show coat) are beautiful finishing touches.
Thumbs Up 👍
When I wear these shirts, I exude confidence. And that's a big deal when my show nerves get the best of me!
Thumbs Down 👎
If you're a hunter princess, these shirts may be too flashy for anything above local. They are definitely more meant for the jumpers as it really doesn't matter what you're wearing as long as it's "formal" enough for that show.
Price
Quite unlike the other fashion brands, Cavalliera provides a high quality product at a reasonable price. Most show shirts are under $60!
Bottom Line
So far I am very impressed with these show shirts from Cavalliera. I have not been able to compete in them yet, but cannot wait to. Until then, they're getting plenty of use at the office!
—
Find out more about Cavalliera show shirts here.
You can also check out Cavalliera on Facebook and Instagram.