You know when you find a pair of shoes that fit perfectly so you purchase a pair in every color? That's what happened for me with custom DeNiro tall boots. I purchased a simple pair of brown dress boots and it was love at first sight. Then came the brushed black boots with patent trim for shows. Two years later, I wanted to purchase another pair of DeNiro tall boots, this time with laces so that I could wear winter breeches and heavy socks without loosing circulation in my legs!
My search for custom DeNiro boots took off when I came across StyleMyRide. After perusing the albums of boots they have created, I found the perfect pair! Sadly, I couldn't have "that" pair so StyleMyRide quickly sent me other options, but I wasn't in love.
One thing lead to another and before I knew it, I was in full-swing custom creation mode! Wa-la! The perfect boot for me was created! The "V" represents two very important points in my life: "Vue de Lou Dressage" is named after my late pony Louie who jumpstarted my love of horses; and Versace, the horse that helped make my lifelong dream of earning my USDF Gold Medal come true at 22 years old!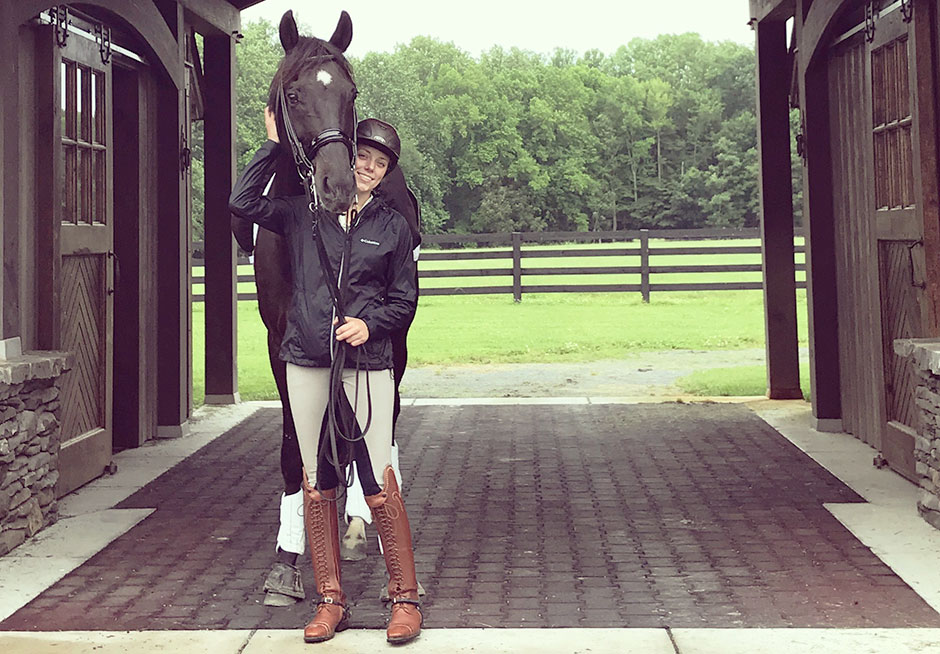 Features
Custom DeNiro tall boots have a few key features that put them above the rest:
Vibram Outsole: provides better stability in the stirrups and the soles last much longer than any other boot I've owned
WRAT: makes the leather water resistant which preserves the color of the boots (looks like you can ride in the rain after all!)
Spanish Top to elongate the leg
Laces!!! My leg size fluctuates a bit throughout the year depending how many layers I am wearing (lol) so with the laces, I can easily loosen and tighten my boots for the perfect fit every ride
Hard on the outside, soft on the inside. Remind you of your favorite cookie?! These boots feature the stovepipe look with a soft, more flexible leather on the inside calf for good grip and a no-pain break-in!
Oh-and StyleMyRide offers exclusive interchangeable tops for your boots: perfect for the matchy-matchy riders!!
Options
The options are endless with DeNiro and StyleMyRide! Tend to like Dress boots over polo boots or field boots over lace-ups? It doesn't matter! You can basically use any color leather, a variety of patterns, your logo, laces (in two different styles), zipper guards, patent leather, shiny jewels and more to create your dream pair of boots!
I went with the Raffaello boot in Brandy, alligator print for the "V" and gold studs to outline the Spanish top and accentuate the "V." Then, mirroring the "Western" style DeNiro offers, the heel was reinforced with alligator print and was made to be a wood looking finish.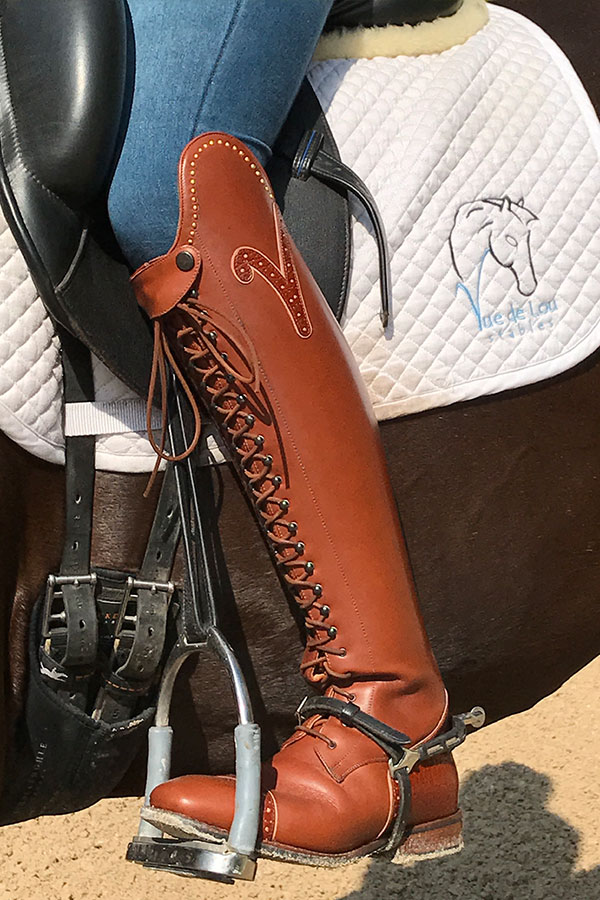 Thumbs Up 👍
My creative spirit could run free working with Noelle at StyleMyRide. The boots arrived looking exactly as we discussed with not a single thing wrong with them! The fit was perfect and the color was even more stunning in person. The break-in period took only three rides with no blisters or bruises (another yay!)
Thumbs Down 👎
While I expected it to take longer than usual to receive these boots, I was a bit disappointed with how long the whole process took. I blocked three months for the whole project so that I take my normal boots in for some maintenance before their zippers kicked the can and I was left training each day in my show boots. Sadly, for several reasons out of my control, it took almost 6 months. Hopefully that was just a fluke and StyleMyRide/DeNiro solved some kinks since then!
Price
Custom boots come with a custom price. DeNiro boots typically run anywhere between $900-$1,500 depending on the complexity of the boots.
Bottom Line
You need a pair of custom DeNiro tall boots from StyleMyRide. Be creative, think outside the box (or simply stretch your box), and let StyleMyRide know I sent you!
—
Find out more about custom DeNiro tall boots here.
You can also check out DeNiro on Facebook, Twitter and Instagram.