Most of the time I'm freezing. If it isn't 80 degrees Fahrenheit, I'm huddled with the dog and cat under the heated blanket in my house. I guess I don't produce my own heat just standing around, but as soon as I start exercising all the fluids leave my body. My body is like "I'll be damned if I let Mary overheat during exercise!" and the sweat releases. The grossest parts are my head and my back, and there really is nothing worse than wearing a drenched shirt for hours after a ride.
Or wearing one all day at a horse show. Growing up showing in the hunters I always loved my Essex shirts. I had them in blue, pink, purple, and a pretty light yellow. Cooking under my wool hunt coat in the August Pennsylvania sunshine, those beautiful shirts turned a darker shade of blue, pink, purple, and pretty light yellow. They did dry….eventually. 9PM unloading horses at the barn after the show the Essex shirt I was still wearing, going on 15 hours straight, had turned crisp and pungent after a chilling ride home in the truck with the AC blasting.
I must not be the only one with this experience, because the Essex shirts we all love now come in a cool nano-tech fabric that wicks moisture away and keeps you dry. God does answer prayers! The Essex Classics Talent Yarn® Long Sleeve Show Shirt is all that and a bag of sea salt avocado oil chips. The fabric is the biggest appeal, but the mesh panels under the arms allow those with sweaty pits to rejoice. Even if you don't have sweaty pits, the air flow the mesh creates is unbeatable. You almost think you have on short sleeves. Almost.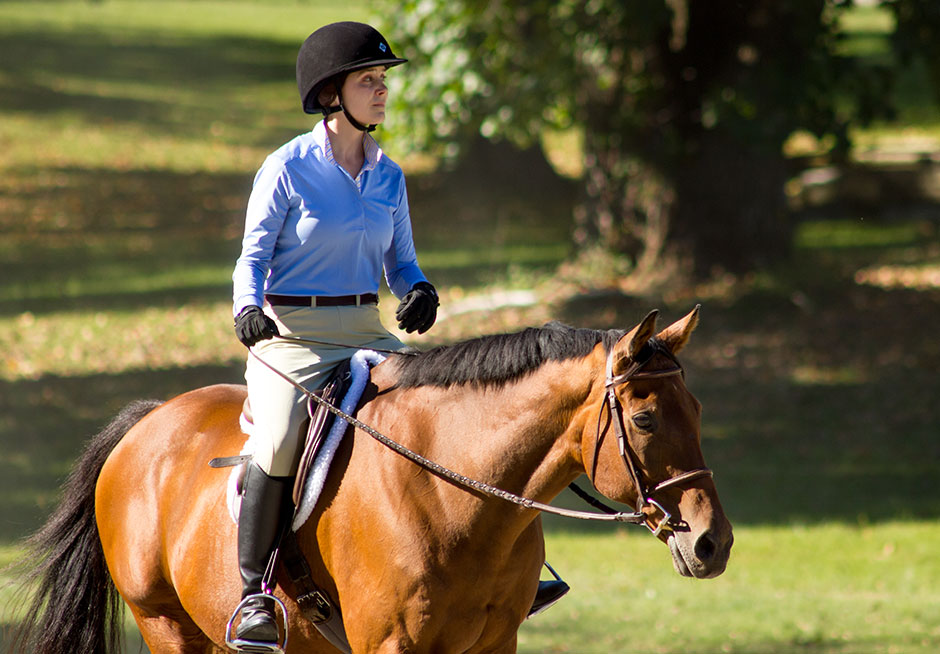 This shirt also features the wrap style collar now on so many show shirts. I don't know who the genius was who invented that, but it sure beats having an additional collar to wrap around your throat when you're already struggling to breathe from heat exhaustion.
The details on this shirt are truly beautiful. The tailoring is flattering and not baggy. Somehow, even though the fabric is silky and should have a tendency to drape, the tailoring is such that it still has the structured look of your stiffer, classic Oxford style shirt. Inside the collar and cuffs is patterned giving a fun pop of color and personality.
Not to be all 5th grade or anything, but Lindsay and I got the shirt in matching colors and have worn them while showing together. She found them at Tack of the Day for half the original price.
This shirt is so pretty I even wear it to work. And since it's antimicrobial, there are no residual horsey smells. Not that I'd mind.