Sometimes nice things enter your life when you least expect them. Thanks to a thoughtful and generous co-worker, the Goode Rider Equestrian Coat recently became the newest member of my clothes family when she was looking to downsize her herd. Move over Dubarry of Ireland, there's a new fashion coat in town!
Features
Standing at a lean 5'10" with arms for days, I was initially worried about the fit. And rightfully so. I'm insanely picky about how clothes fit. Also equally frustrating, regularly sized jackets often need the sleeves 'let out' to suit my go-go-gadget figure.
By the grace of George Morris, the fit straight from the manufacturer couldn't have been more perfect. I felt like the equestrian equivalent to superman as soon as I put it on for the first time. His cape was my fashion coat and I was ready to help save the only planet with horses and cupcakes!
With mid length tailoring and princess seams, this coat is perhaps one of the most figure flattering pieces I've owned to date. It holds its shape, while remaining light and easy to throw on and off. I love the blazer-like fit as it doesn't have the weight and bulk of a coat, but has a beautiful structure.
Style wise this coat is ridiculously elegant and chic in person. Made from a wool/poly blend with leather piping, it looks way more expensive than it actually is. And with a subtle horsebit detail on the back, it's beautiful from any angle. Even the most fashionably challenged would feel like an equestrian goddesses wearing this.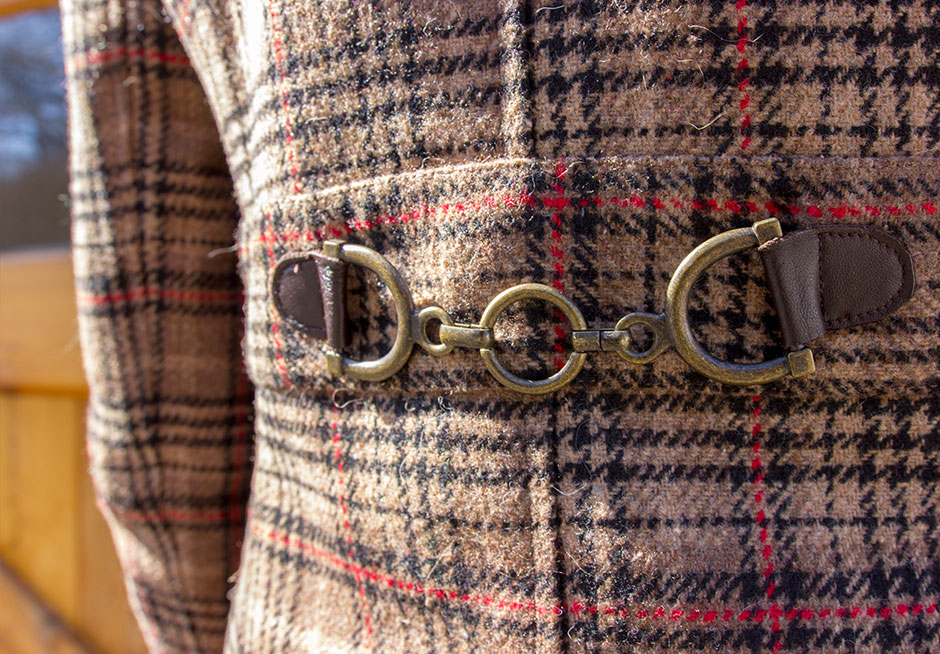 Thumbs Up 👍
You can wear this coat over a t-shirt and look instantly glamorous! Perfect, cozy texture and flattering shape. LOVE!
Thumbs Down 👎
My only issue with this jacket is the length as it will swallow those with shorter frames.
Price
The Goode Rider Equestrian Coat normally retails for $299.00 but is on sale at the moment for $149.50 on Goode Rider's website; you should definitely check it out! I use my coat for many seasons so I think it's worth the sticker price.
Bottom Line
I'm a big fan of jackets and this is a unique variation to spice up a wardrobe. Comfortable fit and great quality, it will be something I'll wear for years until it has to be put out of it's misery. I wouldn't hesitate to purchase other items from this company in the future and have my eye on the Jean Knee Patch Breeches as my next "must have" item. What would you choose to buy?
—
Find out more about the Goode Rider Equestrian Coat here.
You can also check out Goode Rider on Facebook, Instagram and Twitter.