Looking to stand out in the show ring? The Horseware Ireland Sara Competition Shirt provides the fashion statement you need that is suited to the active equestrian lifestyle.
No longer are horse shows just an opportunity to show off your hard earned skills in the spirit of competition. Instead, they have become more fashion focused, and riders face an inquisition about what to wear that both complies by discipline standards and expresses themselves as individuals. After all, isn't the goal to be a palomino in a ring of bays?
In my quest to find the perfect shirt to stand out from the rest, I stumbled upon the Sara Competition Shirt from Horseware Ireland. It checked all of the things off my list!
What makes this show shirt amazing? It's simple… everything!
Features
Constructed of technical jersey fabric with just the right amount of stretch (92% nylon and 8% spandex), the Horseware Ireland Sara Short Sleeve Competition Shirt moves with you in the saddle. It's so lightweight and durable that I can ride on and on and on. Don't you worry; this shirt is built to last!
The added Coolmax® technology keeps me dry and comfortable when I need it: great for those ridiculously hot show days! Additional antibacterial properties also provide long-lasting freshness and confidence. I like that I don't have to sacrifice comfort and performance for style!
Purposefully cut for riding, the Horseware Ireland Sara Competition Shirt is fashionable enough to look dressy. This top was designed with the female rider in mind, tailored for a sporty slim-cut fit. It has a silky-soft, luxurious touch for comfortable show wear, but also doubles as a wearable day-to-day top. I am blown away by its versatility: I can wear it to shows, dress it down for the office with jeans and Dubarry's, and even pair it with a midi skirt for fun and playful evening wear!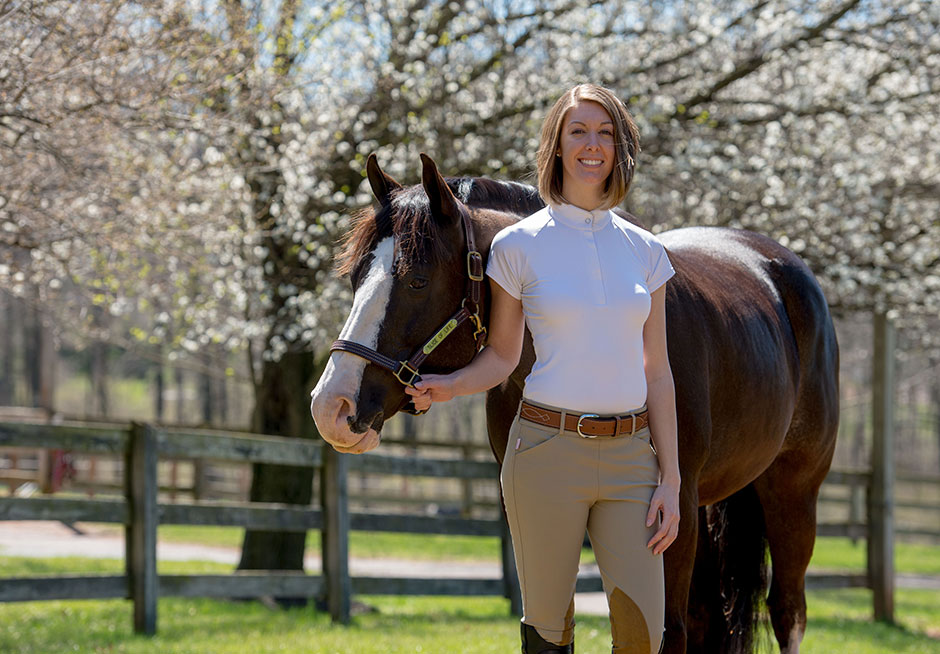 The Horseware Ireland Sara Competition Shirt offers a polished look in front with a hidden quarter zip closure beneath a clean white placket, which allows you to get in and out of your shirt easily. It also features a traditional stand-up show collar that's accented with silver piping and a single, pearlized snap.
Remove your show coat to reveal the most amazing lace inset at the back. This discreet cut-out detail adds something unexpected and interesting. Not only does it provide a hint of feminine style, but also extra breathability–perfect for our riding needs! This detail is what made me say, "yes to the show shirt".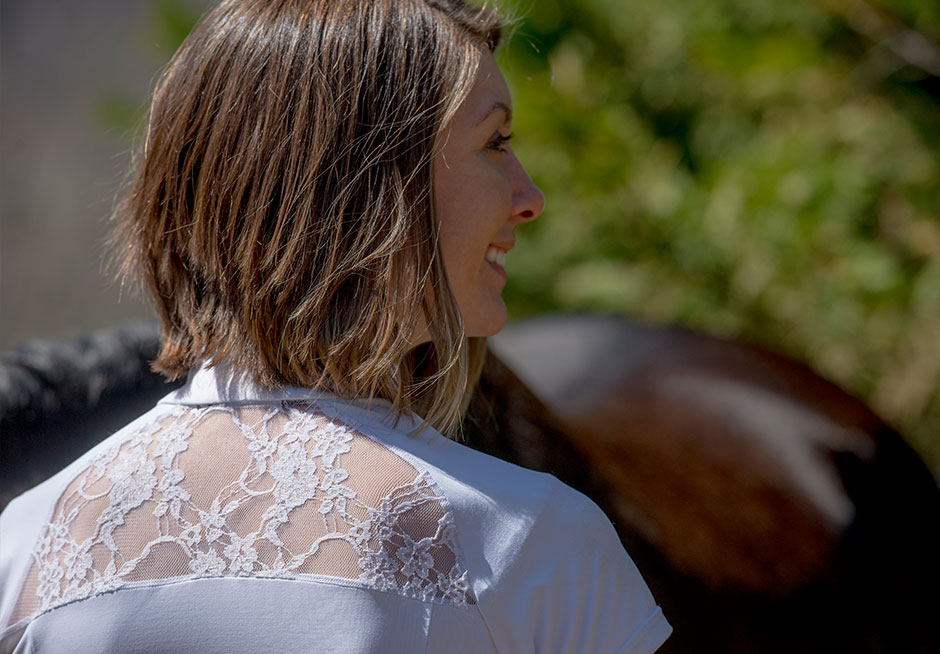 Options
The Horseware Ireland Sara Competition Short Sleeve Shirt comes in two colors—white and green (new for spring 2017!)—so that you can show your true colors off in the show ring. There's also a long sleeve version to choose from.
Thumbs Up 👍
Save yourself some time and hassle with this easy–care shirt! It's machine washable on a delicate cycle, line dry. In addition, the wrinkle-resistant fabric means that you can horse show in style without depleting your polished appearance.
Thumbs Down 👎
TMI: Your go-to racerback bra may ruin any back-pose pictures. So find a sports bra that jives with the open-back look.
Price
Priced at $69.99, the Horseware Ireland Sara Competition Short Sleeve Shirt delivers the athletic benefits of technical fabric that's friendly to your wallet.
Bottom Line
Combining both fashion and function, the Horseware Ireland Sara Competition Short Sleeve Shirt is a classy must-have horseshow-friendly item. Its breathable, moisture wicking and easy care fabric make it the perfect choice for Dressage or Jumper competitors as well as riders who prefer a clean, crisp and pulled together look. And that back lace detail…need I say more?!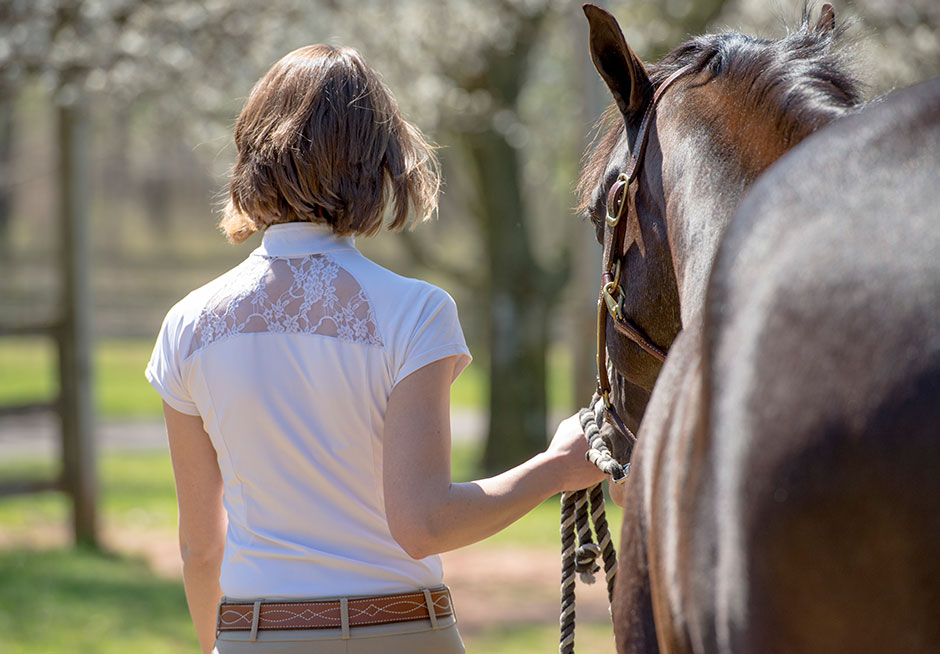 —
Find out more about the Horseware Ireland Sara Competition Shirt here.
You can also check out Horseware Ireland on Facebook, Instagram and Twitter.