I am downright obsessed with color-blocking this season. It's not just me, though! The equestrian apparel market has exploded with vibrant shades and styles. From closet classics to fashion-forward statement pieces, Le Fash NY is all about mixing rich plaids, bold colors and metallic accents in minimalist silhouettes that allow for a seamless cross over from stable to street. When I saw the Open Placket Shirt, I knew I didn't want to live my life without one — and now I don't have to.
Features
My first impression was how incredibly lightweight and comfortable the Le Fash Open Placket Shirt is. It features soft Egyptian cotton on the front, collar and cuffs for a traditional look with a hunt coat. The contrasting bamboo/spandex knit on the sides and sleeves is smooth and stretchy, yet breathable; unlike show shirts I'm used to. Perfect for hot weather and stylish enough to wear anywhere, not just for riding.
The bamboo knit also creates a modern color blocking effect for a very slimming and flattering shape when worn alone. I love the fit; everyone tells me how good these shirts look on me. For sizing reference, I normally wear a women's size 4-6 and the Le Fash small fits well.
Finishing touches include a curved shirttail that stays tucked (doesn't bunch either), stylish notched double button cuffs and a notched collar with Le Fash's signature hidden magnetic closure that opens clean for a fashion cross over. As a taller rider, longer-cut sleeves and shirttails are very much appreciated.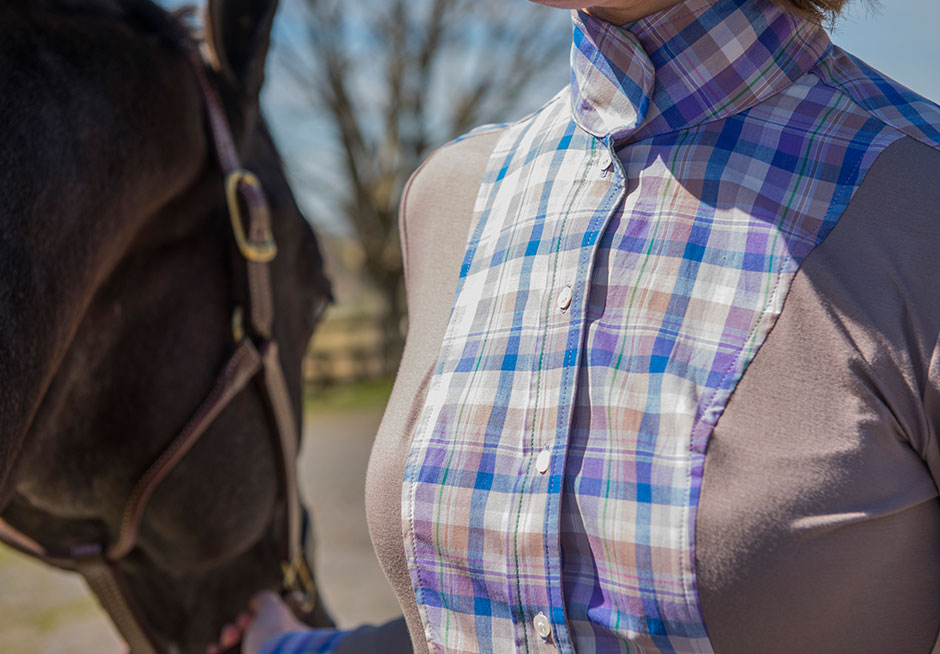 And best of all, each shirt is made right here in the USA, in New York, to be exact.
Options
The Le Fash Open Placket shirt comes in a wide variety of color combinations: from traditional tone-on-tone white to bold plaids, there's something for everyone—no matter what your taste. Long and short sleeve options are also available, finished with white, gold or silver buttons. Le Fash even offers four additional shirting styles: "CC", sport, pocket, and Paulo Alto Collection.
Thumbs Up 👍
The best part about this shirt? It easily transitions from everyday to show day. I often wear my Open Placket shirts to work!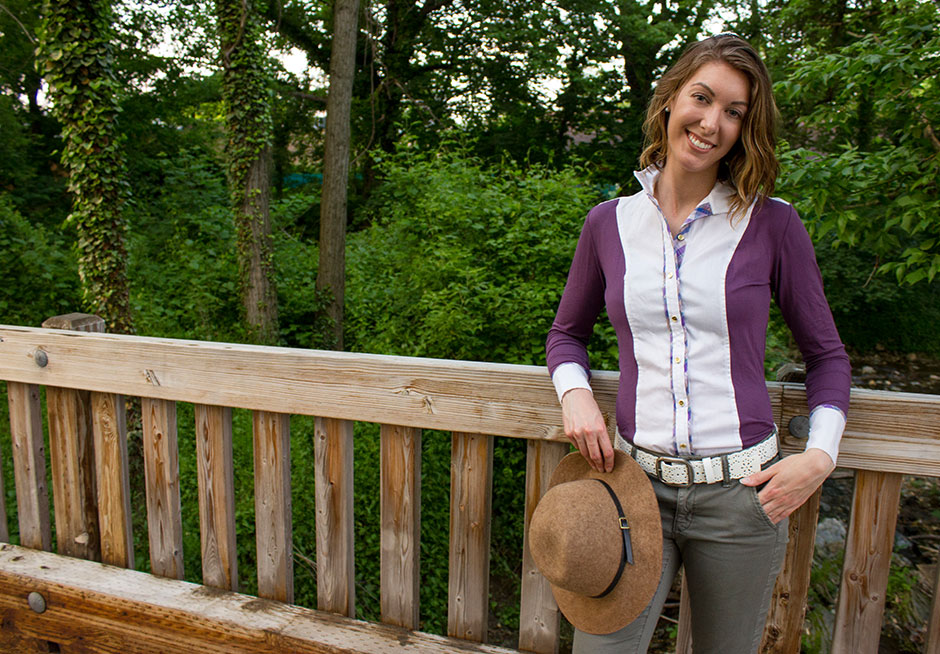 Thumbs Down 👎
Beyond the hefty price tag, these shirts need to be washed in cold water on a gentle/delicate cycle with mild soap. Luckily only the critical areas need some light ironing (if pressing collar, keep away from magnets).
Price
At $195 it may be challenging for the average equestrian to purchase these shirts at their original retail price all the time, at least not without sacrificing elsewhere or going broke. They're an investment!
Earlier this spring, I was lucky enough to stumble across a Le Fash super sale. But even discounted, these were still significant purchases for me. When my package arrived though, I knew it had been well worth it. The amount of thought and detail that went into each shirt impresses me every time I put them on. Because of my serious purchase considerations, I was able to buy show shirts I genuinely like and appreciate.
Bottom Line
The Le Fash® Open Placket Shirt is the perfect mix between fashion-forward style and comfort. It's well tailored and looks amazing no matter where it's worn–on the city streets or in the show ring.
Remember, color-blocking is a timeless trend (thankfully!) that's loud, bright, and stands out. You're going to be noticed in a Le Fash Open Placket Shirt, so smile and rock it!
—
Find out more about the Le Fash Open Placket Shirt here.
You can also check out Le Fash on Facebook, Instagram and Twitter.