I have been wanting a Michel McNabb curb chain bracelet ever since I discovered the brand. After months of being on the top of my Amazon wishlist, I decided to buy one for myself. And apparently so did everyone else because SmartPak was completely sold out. Le sigh.
Fast-forward to earlier this year when the opportunity arose to not only purchase the bracelet I've been coveting in person, but also meet Michel McNabb in the process! It was almost like it was meant to be.
Each bracelet is a one-of-a-kind, hand-carved piece of art. Inspiration for the design comes from timeless pieces of English tack. The level of detail and craftsmanship makes me feel like I'm wearing a miniature sculpture on my wrist.
Features
Considering most days I'm either at work or the barn, it makes sense that my jewelry collection should be suitable—and subtle enough—for everyday wear. This bracelet is dainty, yet bold. Constructed of sterling silver plated in rhodium, it's highly durable and tarnish resistant, coming back to a bright shine with a quick polish. I could wear it 24/7!
The curb chain bracelet measures 7.5 inches in diameter (links can be added or removed if need different size) with a stirrup and crop toggle style clasp that is easy to work on my own. I tend to go for this bracelet a lot. So lightweight and comfortable, I often forget I have it on!
Options
Oh so many options! While the clasps are always Sterling Silver, the curb chain can be plated in Rhodium, Rose Gold or Yellow Gold to suit your fancy. I'm more of a silver kind of gal.
Thumbs Up 👍
It's strong enough to hold up to a busy day in horse heaven and not break! Plus at night, it gives a little extra sparkle to my outfit!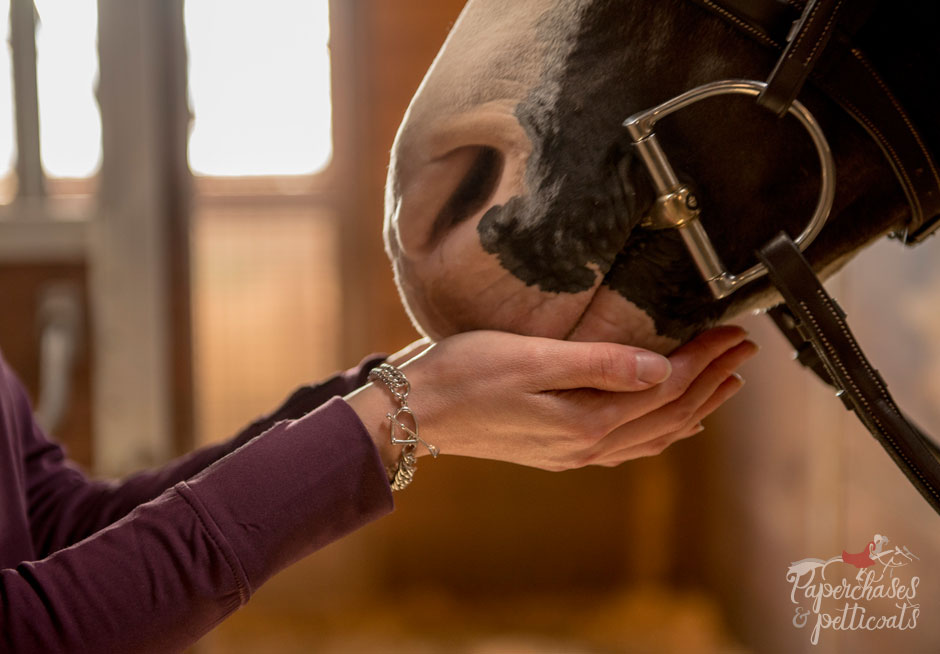 Thumbs Down 👎
This bracelet is more stunning in person, the pictures really don't do it any justice.
Price
The $70 price tag is reasonable considering the quality, time and effort that go into each curb chain bracelet.
Bottom Line
It sure pays to get yourself what you really want! This bracelet makes me so happy! It's beautiful, comfortable, well-made and goes with just about everything. The perfectly glam gift (or self treat)!
—
Find out more about Michel McNabb's curb chain bracelet here.
You can also check out Michel McNabb on Facebook, Twitter and Instagram.