Muck boots are my go-to shoes for the barn. Until recently though, I couldn't transition from horsing to hanging out without a wardrobe change. That's because most muck boots tend to look pretty technical—and with good reason—they need ankle support and serious sole traction to hold up to horses. But Muck Boot Co. offers a line of shoes that's changing all that: Meet my latest obsession, the Cambridge Mid.
Their improved look has made it completely acceptable to wear out of the barn. Plus, they're more comfortable than pretty much any other equestrian footwear option out there. In other words, they're the ultimate in fashion and function.
Features
These boots are 100% waterproof from top to bottom. Having protection from the elements is important to me as I am often traipsing through mud or across wet, grassy fields. And since they're constructed of neoprene and rubber, there is no need to treat them with anything—just hose off and go!
The Cambridge Mids don't even look like muck boots. They don't feel like typical muck boots either, since they aren't clunky or heavy and are comfortable to walk in all day. I thoroughly enjoy that the soft neoprene tops don't chaff my calves!
What I find most useful is the tread—it's fantastic for keeping my footing, really grips the ground to prevent skids and slips. I gave these a good test hand trotting Dexter for soundness checks.
I used the size chart available on the website. It's nice that there are half sizes! The boots fit just as I had expected: snug around the front of my feet, but wide at the heel (wish they were a little more narrow here). The toe box is roomy enough to wiggle my toes and accommodate thicker hiking socks during colder months.
Options
Available in a variety of colors and patterns, you're sure to find one you'll love!
I was immediately drawn to the stripes print and I'm happy to report that it's just as pretty in person as it is online! This stylish muck boot is perfect for the barn and beyond.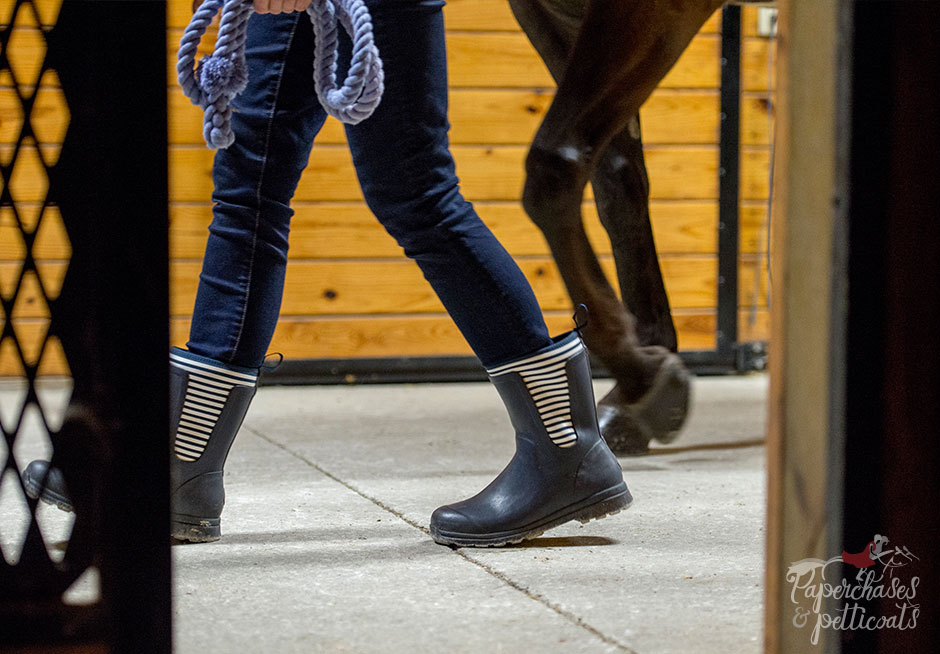 Muck Boot Co. also has a collection of winter boots, ballet flats and clogs just in case you aren't in the market for some new muck boots 😉
Thumbs Up 👍
The best part is they don't slip around on my feet. After walking miles around the ring with Dexter as part of his rehab process, my socks are still in the same place they were when I started. Amazing! Most pull-on boots are bad at pulling socks down to my toes and I hate that.
Thumbs Down 👎
The only thing that worried me when I first started wearing these boots was that they were a little stiff and tended to rub my heels. Within a few wears these boots were broken in and no longer did this.
Price
The Women's Cambridge Mid boots are available for $139.99. Their high, waterproof profile and excellent traction make them a good buy even if they are pricey. You can purchase them straight from Muck Boot Co's website or Amazon
.
Bottom Line
Overall, I'm very pleased with my Women's Cambridge Mid muck boots. No more wet feet from crossing dewy/frosty fields in the morning to get Dexter. Yay! And no more blisters. Double yay!
—
Find out more about the Women's Cambridge Mid here.
You can also check out Muck Boot Co. on Facebook, Twitter and Instagram.