Handbags weren't on my radar until my early 20s. Before then, I never fancied myself a purse person, carrying only what I could manage. Not to mention the thought of owning an endless treasure trove like Mary Poppins and so many of my friends thereafter was unappealing. I still to this day cannot believe that keys can be lost in such a small space. IT'S NOT A HORSESHOE IN THE PASTURE, PEOPLE.
After years of failed experiments brought on by exploring my femininity and an overall sense of grown up expectation, I finally settled on a style in which I was happiest with: the cross body.
Fast forward to last winter when Mary introduced me to the wonderful world that is Tucker Tweed Equestrian. I laid eyes on their Camden Crossbody at the AETA International Trade Show and it was love at first sight. But don't tell my boyfriend that!
The day had come when a purse would change my entire way of thinking. There was just something about the Camden Crossbody…from the leather quality to the plethora of pockets, bit hardware and embossing options; it was a work of art. I found myself drooling and giggling from excitement–I had to have one.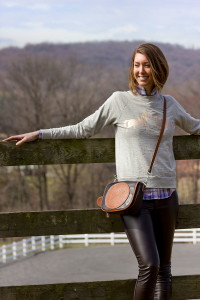 Features
Based on my riding background, the Hunter/Jumper bag was an obvious choice. Straight out of the box, the pebble grain leather was soft and supple with the richest of aromas. It's funny how the scent of something can transcend you to nostalgic places. Ahhhh the smell of leather in the morning.
The contrast of the dark chocolate to the chestnut coloring is so rich. It really makes the circular embossed image the main focal point. This accent color is also carried throughout the piece as piping inside and out. Does it get more timeless?!
With an adjustable shoulder strap (drops 22-25" ), making the switch between a crossbody, shoulder bag (loop shoulder strap inside flap once) and clutch (tuck straps in purse completely) a breeze. The magnetic main flap also allows for further ease of use.
From the exterior zipper and interior magnet close pockets to the interior zipper and cream satin pockets, it's roomy enough for my day-to-day essentials: wallet, keys, iPhone 6, chapstick, tissues and on occasion restaurant horse mints (this happens more times than I care to admit). Surprisingly, you don't need a bottle of Purell or sewing kit most days to survive. My wallet also fits perfectly in the largest satin cavity with room to spare.
Options
The Camden Crossbody is available in 36 different styles: 9 color options (4 solid color shades and 5 color blocked varieties) and 4 embossing options (Hunter/Jumper, Dressage, Foxhunting, and Signature series). If you're indecisive, you can opt for the Tucker Tweed Signature Collection which boasts the distinctive Tucker Tweed logo.
Thumbs Up 👍
Even non-riders appreciate the finer details of my Camden Crossbody, often complimenting me at the most unlikely of places such as Target and the nail salon.
Thumbs Down 👎
The egg butt snaffle bit hardware has a tendency to twist and get stuck which in turn twists the shoulder strap.
Price
The quality is top notch for the price point of $199.
Bottom Line
I love that this crossbody allows me to share my passion for the hunter/jumper sport. Regardless of the discipline you choose though, the Tucker Tweed Camden Crossbody absolutely delivers on both luxury and fashion.
And did I mention Tucker Tweed's excellent customer service? I cannot get enough of small business owners that not only take pride in their work but also the customers they are serving. From the moment I met owner Jill Tucker, she has done nothing short of impressing me. Her passion and motivation for helping others is unparalleled. I never felt like just another customer, but rather a special guest. It's because of this and the superior product quality that will have me coming back for more. I already have my sights set on the Tweed Manor Tote in chestnut/black. Le siiiiiiiiiiigh.
—
Find out more about the Tucker Tweed Equestrian The Camden Crossbody: Hunter/Jumper here.
You can also check out Soft-Ride on Facebook, Instagram and Twitter.