Eastern Pennsylvania is prime horse country, this we know. But you know what else we have besides horses, potato chips, Amish, and Philadelphia? OUTLET SHOPPING. We have 'real outlets' (i.e. containing overflow etc items from stores) and 'fake outlets' (i.e. containing items/lines that are specifically designed for the outlets and have never seen the high end racks). Really I don't care either way, I enjoy them all. One of my favorite outlets is Coach. Every time you walk in there the sales ladies lavish you with 30% off coupons, and guess what? You're in luck! The bag you wanted was already 40% off! As a result, I have several Coach handbags.
To me, nothing much in my price range competes with Coach, but when I saw the Tucker Tweed James River Carry All: Hunter Jumper, I felt the prey drive within me shout "WANT!"
There's a big (anatomically correct, which is important) horse embossed on the side of it, it has smooth grain leather that's easy to clean, and four metal feet to keep the bottom from getting worn on the floor. I was sold. The biggest challenge was deciding whether I wanted to express my jumping or dressage side. I went with jumping. One of the things I like best about the horse on this bag is that it's large, but subtle. When I accessorize with horses I want to make the statement that "I love horses, but I'm an adult lady and not 5." This bag is so classy and subtly equestrian that it says exactly that.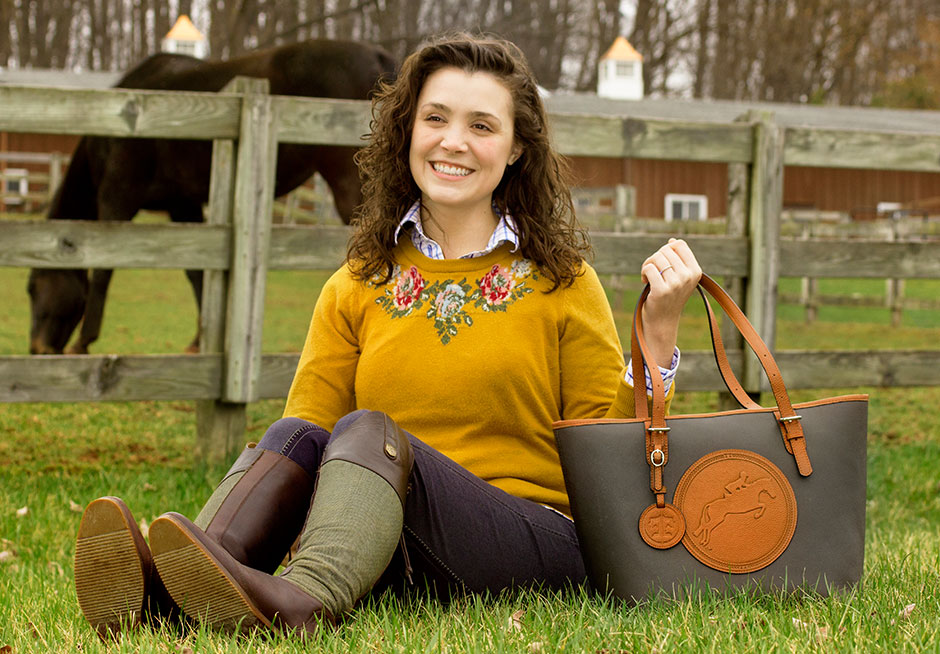 My plead to Tucker Tweed is that the James River Carry All come in more colors. Please! It's beautiful for fall and winter, and I'd like a spring/summer version as well. I've gotten so many compliments on this bag. People are surprised when I tell them it was made by a smaller niche company and not, say, Longchamp. The quality of the design and leather materials are apparent to everyone, not just us horse people!