Horse show attire has always been heavily steeped in tradition. Yet the modern-day equestrian expects more from their wardrobe: pieces need to offer complete freedom of motion in the saddle and hold up to the rigors of the sport no matter the climate. Keeping up with these trends, Winston Equestrian fills the gap in the market where clothing that was functional wasn't particularly stylish. The Mia Show Shirt reflects this change in innovative fabric and design. 
Features
Made of soft-cotton based two-way stretch fabric, the Winston Mia show shirt provides just the right amount of stretch for freedom of movement in the saddle. Relaxed armholes prevent binding under a show coat. The generous tail length keeps the shirt tucked in while jumping, which is something I look for in any show shirt.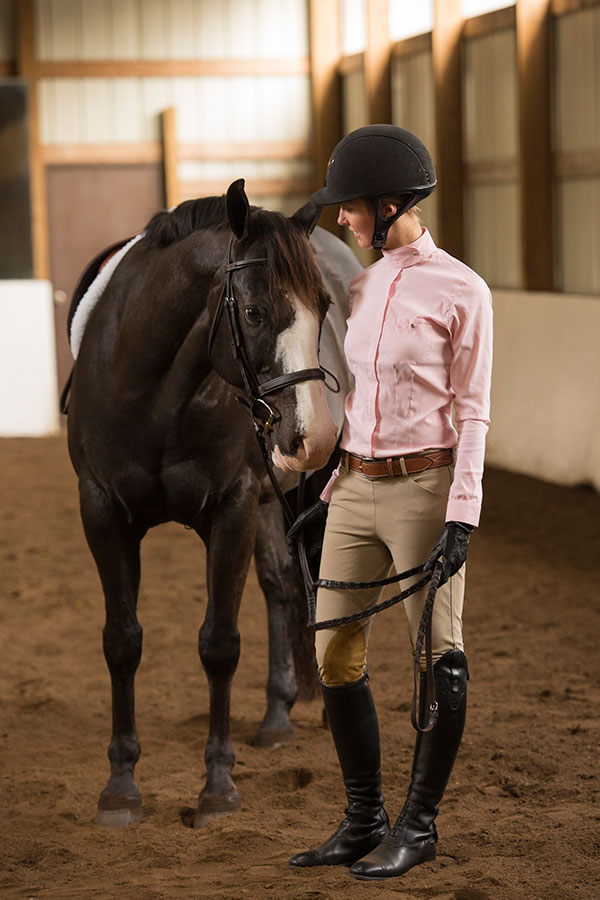 Arguably the most striking feature of the Mia shirt, though, is its fit. The slim cut is curve accentuating, even for those with little to no bust like myself. And if you are also a woman of more than average height, Winston Equestrian offers tall sizes to accommodate our longer frames and arms. Hallelujah, a company that honestly understands my struggle with sleeve lengths! Now if only more brands would get on board with this idea…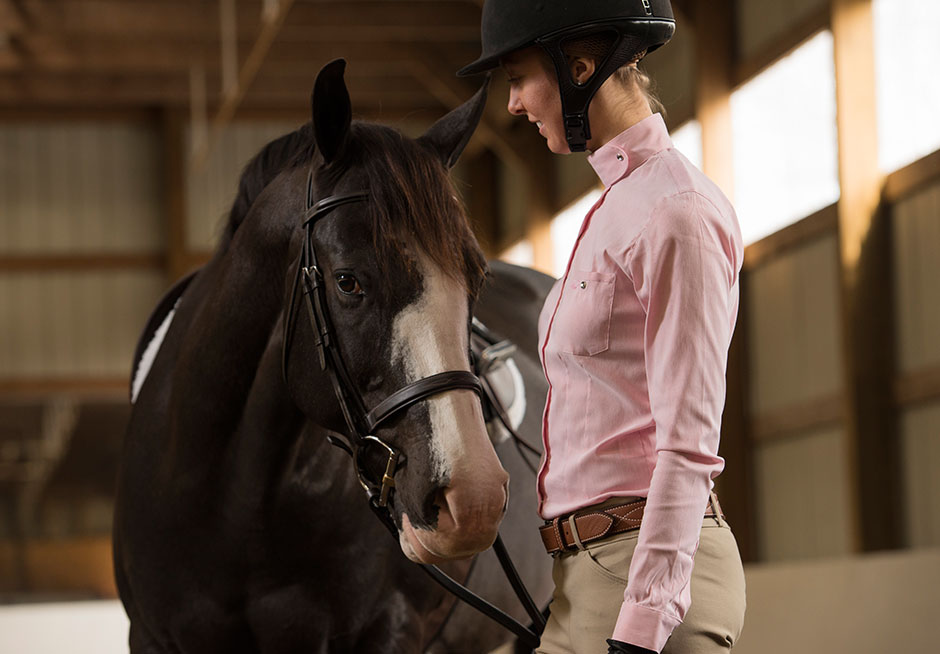 If you are used to wearing a traditional fit, I would suggest going up a size from what you typically wear. It'll give you more room in the body without being boxy. Here, I opted for a size 38 versus a 36 in other brands. However, what I envision as the perfect fit may very well differ from your idea of perfection as it depends greatly on personal taste.
Options
The Mia show shirt is available in white, light blue and pink. I loved the pink stripe so much, I couldn't resist. The modern wrap collar features reinforced metal snaps for a comfy and secure fit, eliminating the aptly named choker altogether! Other irresistible details include crystal snap buttons on the collar and pocket for a pretty feminine look.
Thumbs Up 👍
Made with the finest European fabrics, the Mia shirt embodies traditional styling with modern touches. But, if the Mia does not strike your fancy, you're in luck–Winston Equestrian offers a range of show shirts from traditional to contemporary, as well as casual options, in the latest style to complement every rider's particular taste and discretion.
Thumbs Down 👎
Care of the Mia shirt follows that of other cotton dress shirts. It should be washed using a cold setting and hung up to dry on a wooden or plastic clothes hanger. Avoid using wire clothes hangers like the plague, as they tend to distort the shape of your shirt! Follow up with a bit of light ironing and you're ready for your next wear!
Price
The Winston Mia Shirt retails for $189 USD. This pricing closely compares to other upper moderate and high end off-the-rack show shirts, such as Le Fash (around $190 USD).
The Bottom Line
All in all, I am very happy with the quality and fit of Winston Mia shirt. While on the pricey side, nonetheless, it is definitely worth the investment to get noticed in the show ring!
—
Find out more about the Winston Equestrian Mia Show Shirt here.
You can also check out Winston Equestrian on Facebook and Instagram.
I received this product for free for the purposes of testing it and reviewing it. All opinions expressed are truthful and 100% my own.