It seemed like a never-ending quest: to find a truly non-slip hunter pad. After years of searching, I almost stood a better chance of getting a near perfect critique of my equitation from George Morris (a girl can dream, right?!). Then the EcoGold Stabilizer™ Hunter Pad entered my life.

Features
After riding in the Radnor Hunt Hunter Trials, I became an instant fan of this EcoGold pad. It's great for showing or every day use. It has ultra grip fabric on the top and underside, which not only keeps my saddle stable, but also keeps everything in place while galloping at mock speeds (because we all have a little Thoroughbred in us). I never had to readjust my pad between rounds like I did with my old Wilker's fleece pad.
I love that it's 100% breathable. Compared to standard hunter pads, the amount of sweat left behind on Dexter's back was significantly less than expected after hard workouts up and down hills in sometimes hot weather. I appreciate products that help disperse heat and improve airflow.
The seat also features shock-absorbing foam for impact protection. It seems to mold to the contours of my saddle, providing effective support and cushioning. It's always nice to not have to use multiple pads if you don't have to… Less fuss, less muss as they say!
The attention to detail on this pad is what sets it apart from the rest for me. By incorporating a fleece trim, I'm able to maintain my traditional hunter or equitation show look. There is even a slight contour to the spine for a better fit and lycra lining underneath the withers to prevent rubbing. While these later qualities aren't necessarily something I specifically look for in a saddle pad, they will prove more valuable in the future with different horse build types.
Options
I have a large, which fits my 17.5 forward/long flap Antares Saddle perfectly. It shows just right amount of fleece evenly around saddle flap as if it's custom fit.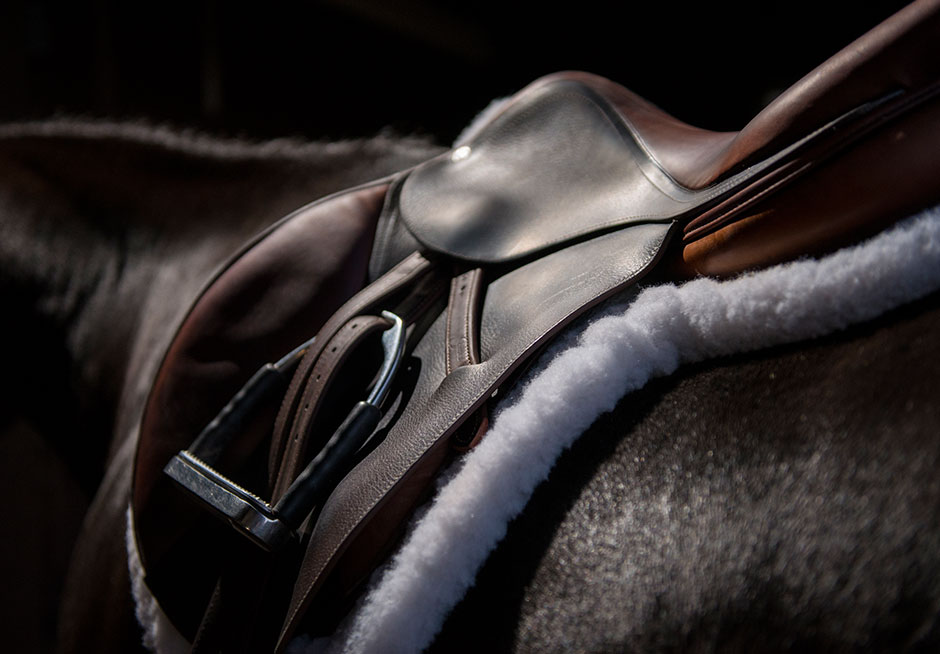 Thumbs Up 👍
I was concerned about the lack of billets for the girth, but that ended up not being a problem. My saddle continues to stay in place no matter what!
Thumbs Down 👎
My saddle tends to bleed, making it difficult to keep this pad looking crisp without bleach. It also does not come in other colors for schooling.
Price
Retailing for $164.95 on SmartPak, the price seemed steep, but I read the rave reviews and was willing to give this pad a try thanks to the 'free shipping both ways' offer. Since the pad does what it promises and has held up well, I'd consider it worth the money spent.
Bottom Line
The EcoGold Stabilizer™ Hunter Pad is my top choice for hunter trials, cross country schooling and combined tests as I don't have to sacrifice my horse's comfort or my saddle's stability while still looking traditional. I would happily buy again, but based on the feedback of other customers, I likely won't need to since these pads are BUILT TO LAST.
—
Find out more about the EcoGold Stabilizer™ Hunter Pad here.
You can also check out EcoGold on Facebook, Instagram and Twitter.
---
Just to add more brownie points to the brand, EcoGold's core values for understanding the importance of community and supporting small businesses really struck a chord with me recently. From now through Sunday, March 13, 2016, 50% of all online sales will benefit Equestrian photographer Amy Dragoo following the theft of her equipment so she can get back to work as quickly as possible.
Having known and worked with Amy personally, I'm ecstatic at this outpour of kindness and generosity towards her. So, if you need a saddle pad, half pad or horse boots, get it on www.ecogold.ca and you'll be doing a good deed at the same time.