Early spring has never exactly been the most celebrated time of year for horse owners. Don't get me wrong, I can barely contain my excitement to finally ride outside after a harsh winter, but this time of year also brings its own challenges with shedding hair and mud everywhere. Luckily, there's an easy solution: HandsOn® Gloves!
Features
To say these five-fingered gloves will change the way you groom and bathe your horse for good is an understatement.
As far as how these grooming gloves work, the name says it all. Made with flexible scrubbing nodules on the fingers and palms, HandsOn® Gloves are effective at lifting stubborn dirt and dead hair.
When I groom Dexter with my HandsOn® Gloves, he doesn't even realize he's being groomed! To him, the larger nubs on the palm provide a nice massage. A great way to begin or end a workout!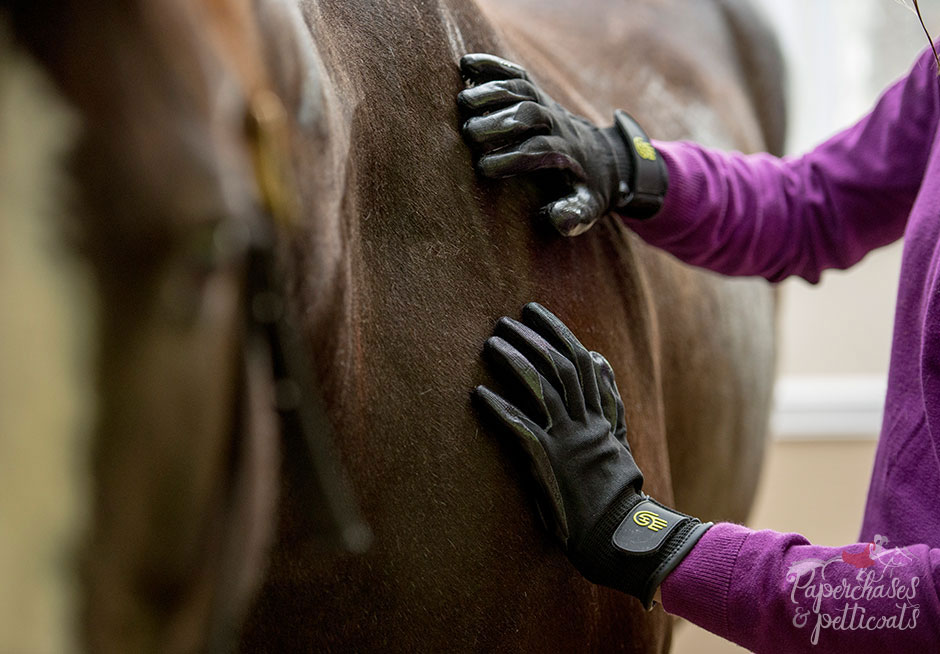 I love not having to hold onto (and naturally drop) a brush. These lightweight gloves fit my hands comfortably and prevent fatigue, creating longer grooming sessions and better bonding time with Dexter. Sure, I could cut my grooming time in half with less effort using both hands, but I often find myself adhering to Dexter's demands for more!
These gloves have been a blessing during shedding season. I can just pet Dexter and groom him at the same time! No more vigorous banging to remove accumulated hair like traditional curries and shedding blades–a quick flick of the wrist and the shed hair is released so I can get back to beautifying my hairy mud monster.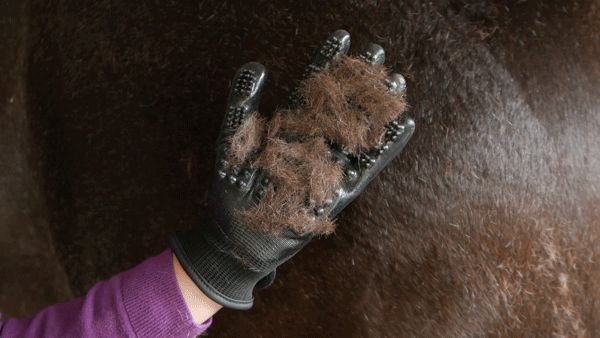 Not only great for shedding, the gloves are actually an all-in-one grooming tool that offers the perfect alternative to a sponge for bathing.
As an added bonus, the velcro closures at the wrist keep dirt out, so my hands and finger nails stay cleaner! Thanks to their flexible grip, I can handle lead ropes and shampoo bottles with my gloves on.
Options
HandsOn® Gloves come as one pair in black or green and are available in five sizes.
Thumbs Up 👍
Need to remove dirt or hair in hard to reach places? The HandsOn® Gloves give me the same power as a shedding blade, but follow the contours of Dexter's body. Because it's flexible, you can bend it into any shape or angle to allow for cleaning in almost any area. The "fine" teeth on the fingers allow me to carefully work around Dexter's face and legs. It's almost like having two curries in one!
Thumbs Down 👎
If you have a sensitive skinned horse, the nubs on the fingers might be too aggressive. However, you don't need to use as much pressure as other tools to get the job done.
Price
At only $24.99 for a pair, there's no reason not to have a pair of HandsOn® Gloves in your tack box. Keep your money in your pocket, but send dirt and hair packing! Plus, get FREE SHIPPING on your next order from HandsOn® Gloves using our promo code petcoat at checkout.
Bottom Line
Say goodbye to traditional curries and shedding blades. HandsOn® Gloves are the perfect cleaning tool, and a basic item that should be in any equestrian's tack box. This is hands on grooming as you've never experienced it before!




—
Find out more about HandsOn® Gloves
here
.
You can also check out HandsOn® Gloves on
Facebook
,
Instagram
and
Twitter
.
I received this product for free for the purposes of testing it and reviewing it. All opinions expressed are truthful and 100% my own.