Never lose your lead rope again! For those times at the barn or away at shows when your lead might grow legs and take a little stroll, this personalized horse lead from MyRope is a must. So rather than joining the ranks of plain tack & gear, why not spice up your horses' life this year with an extra stylish lead rope?
Features
Unlike cheaper lead ropes that wear out quickly, MyRope's 5/8" leads are made from the premium-quality nylon, so they'll last longer and SAVE YOU MONEY in the long run. The polypropylene material is the same solid braid rope that is used for marine applications, well known for its dependability and durability – I can dunk my lead in a bucket of water to rinse off and store wet without worry of it rotting, mildewing or easily fraying. Remarkable soft feel!
I love how it includes a solid brass swivel snap for easy on and off. Sturdy construction, I have no concerns about it breaking or coming loose. After months of harsh use (sometimes left out in the rain), the hardware has yet to show any signs of rust.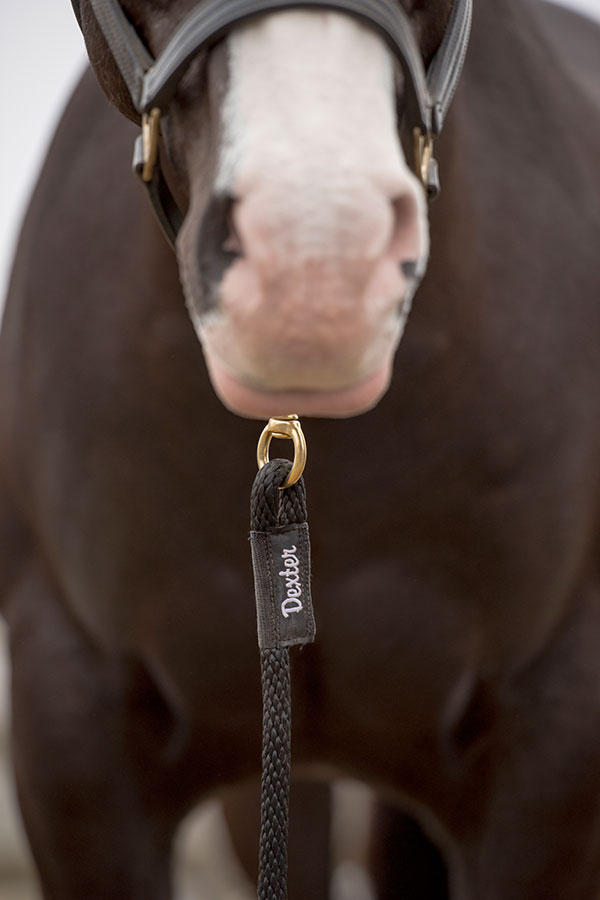 Options
You can select from 16 vibrant options to showcase your stable colors or just your personal favorite color and include your name, your horse's name, and/or your barn's name in either white script or block font. I've owned a variety of blues over the years, but went with a classic black to match Dexter's Walsh British halter. For the same price, you can opt to swap out the brass swivel snap for a silver bull snap or 24″ brass-plated chain. All leads are available in 8', 10′ or 12' lengths.
Thumbs Up 👍
Very few items are as exciting as personalized horse tack. This lead truly creates a one-of-a-kind look.
Thumbs Down 👎
MyRope can only accommodate up to 16 characters for personalization, so longer show names won't work. I've found it best to stick with barn names.
Price
When it comes to nylon lead ropes, $14.99 USD is an average price to pay. However, with the added customization feature, MyRope's leads are a great deal!
Bottom Line
I've purchased a number of these personalized leads for different horses over the years – they really last and the color choices are attractive, enough to suit almost any style! MyRope makes a quality lead rope and they're good about completing them in a timely manner. I definitely recommend this product and will probably get another one when the time comes. These also make great gifts and special awards!
If you value stylish design, comfort and quality, you're going to LOVE this personalized horse lead.
—
Find out more about the MyRope Personalized Horse Lead with Brass Snap here.