If you've owned a horse for 17 years, how many bits do you think you've tried during that span of time on just that one horse? Ten? Twenty-five? Fifty? Now imagine that this horse has crossed into different disciplines. How many different in-style hunter and jumper bits do you try? How many appropriate for cross country? And then, you come to the most elusive of all the bits: the dressage bit. Don't argue with me, you know there are bits that appeal to different disciplines. Hopefully you're of the school of thought that says you'll use whatever bit your horse likes best, but damn you if you go into that hunter class without a D ring. In dressage they're a bit more lax, but rules still apply.
Back to that one horse. My now 24 year old Thoroughbred has tried many bits over our 17 year partnership. How many? I'm afraid to guess, but I've stupidly purchased all of them. Each discipline brought it's different recommendations over the years. Now we're settled into a mostly dressage lifestyle, and it brings with it new options. But the same habits follow us, no matter the bit or style of riding: clacking teeth, braced jaw, unyielding poll, tight neck. Yeah, yeah, yeah I know "it has to do with the hind end", and we're working on it. Give him a break, he has arthritis in every joint and bone spurs in front of at least two.
Still, even though philosophically I know it's about the riding, wouldn't it be nice if a piece of equipment fixed my problem?
Guess what? I found that piece of equipment. The Neue Schule Verbindend loose ring snaffle. The first ride he liked it. The second ride he liked it more. A week later he was a different horse. Flexing at the poll, soft in the jaw. A month later he's chewing the bit softly and producing streams of foam. I didn't even know what a horse chewing the bit sounded like, or felt like, but now I do!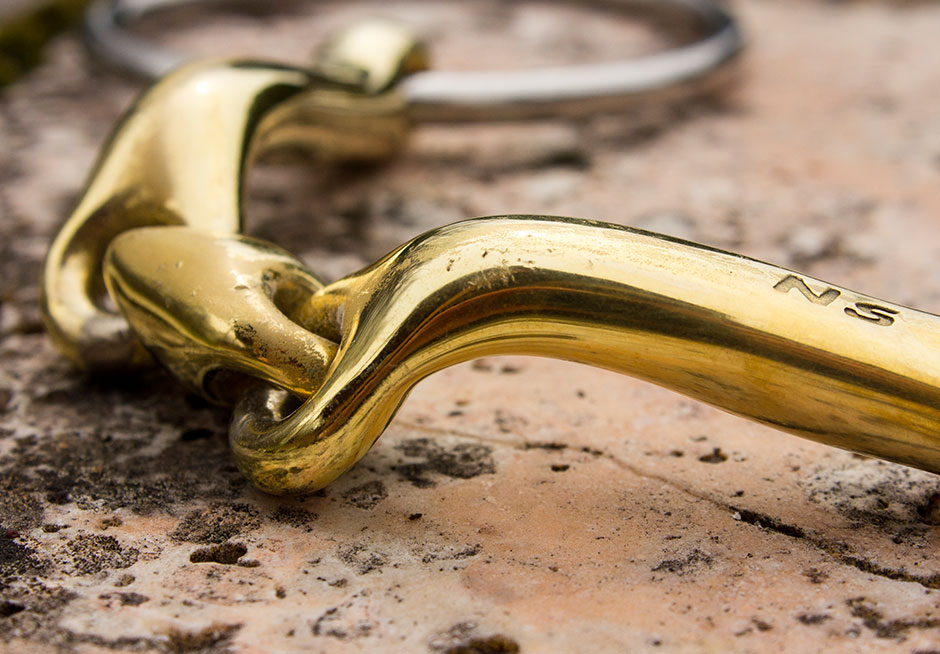 Neue Schule touts the Verbindend as being ideal for horses with tongue evasions, which is probably part of my fat tongued horse's problem. The company claims the bit promotes self carriage and thoroughness, and aids in lateral bending and circles. The bit is made of a special metal called Salox Gold that rapidly matches the temperature of your horse's mouth (though I still heat it up under hot water in the winter to take off the frostbite!).
The most interesting part of this bit is the shape of the mouthpiece. It has what I would call extra curves that create a flatter section from the arms to the lozenge. This is probably what makes room for the fat tongue. The only thing about this bit that threw me off is that it looks backwards when in the horse's mouth. The part of the arms that connect to the rings curve outward slightly at the corners of the mouth, giving the appearance of the bit being in backwards. No worries, it is not! This is probably a clever design to keep the rings from pinching, though the company doesn't specify that on their website.
The best part about the Neue Schule Verbindend Snaffle Bit is my sitting trot. My horse used to brace in his back and neck, which I thought was likely a fault in my position, or god forbid my saddle, but now he's stretching into the contact beautifully.
Watch out First Level!!! This old horse is still getting better!