I want people to know I'm a horse person. But I don't want to be identified by the ways we've so often been recognized in the past: dirty, stained clothes, matted hair, pungent smells, and worst of all, skin that matches the color and texture of our tack. I began wearing sunscreen daily about 10 years ago, but growing up at the barn I let my porcelain skin become as burnt as the summer days were long. Thanks to good genes and sunscreen my skin has recovered, but not without some freckles and moles to remind me of my past.
It seems like the equestrian industry as a whole is jumping on board with protecting our skin. I think this has more to do with vanity than anything, and I'll admit that's why I started avoiding the sun (just say NO to wrinkles!). Based on how translucent my friends' joke my skin is, I'd say I've been successful at avoiding sun damage by using the following:
1. Supergoop! Sun-Defying Sunscreen Oil with MeadowFoam SPF50, $34.00
I've tried every sunscreen from the pharmacy aisle. Most of them, even those formulated for babies, burn my skin. Sometimes my skin gets hot underneath them and I sweat even more. Supergoop! is super gentle AND hydrating. I even spread it on my lips instead of lip balm. It also doesn't stain the harness on my helmet like so many other brands will. FYI: Charles Owen + Neutrogena = discoloration.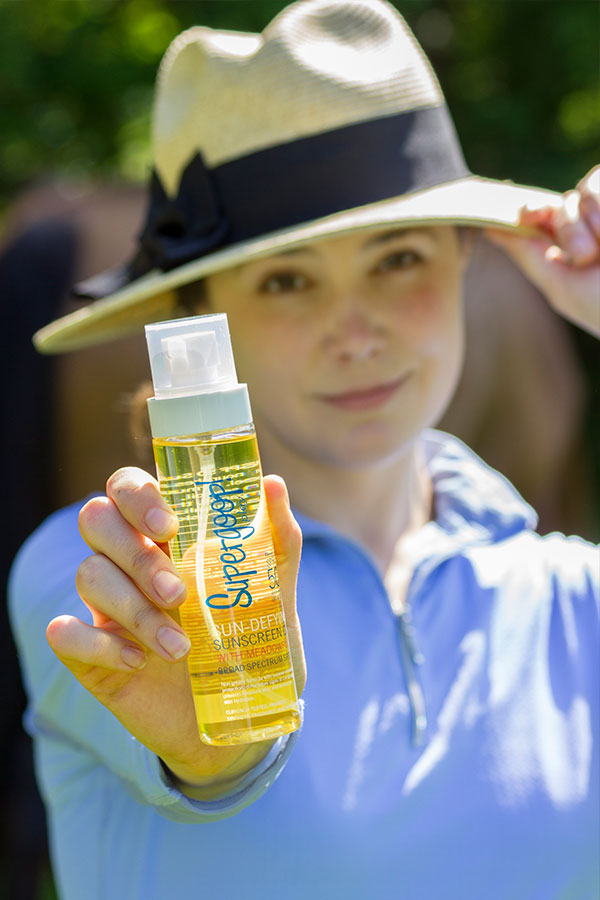 2. Riding Sport Cool Blast Icefil Shirt, $59.95
I have this shirt in most of the colors. It's nice that they come in jewel tones because us porcelain folks need a little color near our faces to look alive. This shirt is essentially a schooling version of the Essex shirt we reviewed, with the venting under the arms and wicking, cooling material. The mock collar protects your neck from the sun. Because of the collar and the long sleeves we can no longer be called "rednecks" or have a "farmer's tan". The best part about this shirt is that it does not get soaked with sweat. Now if only I could find a bra I could say the same about…
3. Nine West Sun Hat
Any sun hat will do while on the ground. I found this one at DSW. Break the bank if you want, but I like to save where I can! For in the saddle, consider adding an EquiVisor to shade your face and stay in place as you gallop to victory. I've found the EquiVisor to be a bit heavy, but worth it for the protection.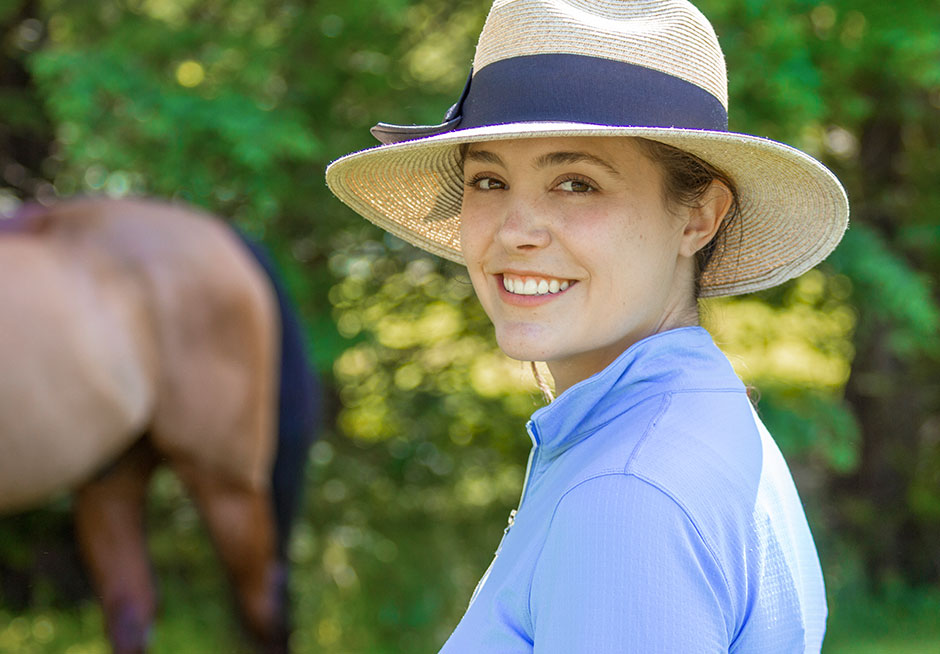 4. Coconut oil, $9.95
Despite all the best clothing options, your skin is going to get dry and damaged, whether it be summer or winter. That's the rub of the horse life. The absolute best remedy for this is coconut oil, which you can buy organic grade on Amazon.com. Slather it on in the shower head to toe, even use it in your hair, and there's no need to apply additional moisturizer after you get out. I had my husband do the sniff test after showering (several times over), and he said I don't smell like I've been drinking pina coladas at the bar.
5. Ray-Ban Clubmaster Fleck sunglasses, $160.00
Unisex? I think not, ladies. I don't actually ride in these, I just use them to look awesome ringside.
6. Pellegrino, $1.50
Or Perrier. Or Soda Stream carbonated water. The bubbles make keeping your skin hydrated from the inside out that much fancier. I don't like drinking, as the Europeans put it, toilet water.